The Hit-Girl Movie May Still Happen, Get The Details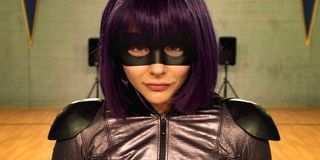 It seems that rumors depicting the demise of the planned Kick-Ass spinoff, Hit-Girl have been exaggerated. In fact, the director of the series' first film, Matthew Vaughn isn't throwing in the blood-soaked towel just yet on this little franchise that could. According to Vaughn, Hit-Girl is still very much in play and he plans to use it as way to get enough momentum for a possible Kick-Ass 3! Certainly, you can never accuse Vaughn of being a deadbeat director when it comes to his franchises. (At least, ones not run by Bryan Singer.)
In an interview with JobBlo, promoting his latest comic-adapted action thriller, Kingsman: The Secret Service, Vaughn reveals a surprising amount of resolve towards reviving the Kick-Ass franchise; especially considering how 2013's Kick-Ass 2 yielded lackluster numbers that would be a death sentence to any other franchise. Vaughn would lay out his grand plan to revive the fantastical world of wannabe superheroes suffering brutally realistic consequences and even has a plan to get the original stars to come back.
Vaughn further revealed that he is working with comic creator, Mark Millar on the Hit-Girl script. Confirming previous remarks made by Millar, Vaughn revealed that The Raid director, Gareth Evans had, indeed, been circling a film in the Kick-Ass series "a couple years ago." Vaughn still seems keen on the idea of bringing Evans' brand of intense, explosive, stylistic chop-socky to the Kick-Ass films. Vaughn would also confirm that, much like with part 2, he would not return to direct Kick-Ass 3.
The idea that the discussed Hit-Girl film was confirmed by Vaughn to be a prequel seems to be a bit of breaking news in its own right. However, when coupled with an interview last year with Hit-Girl actress, Chloe Moretz, saying that she was essentially "done with the character," a prequel film featuring a younger actress makes sense. Certainly, a story about a young Mindy Macready being raised by her father, Damon, a widower former cop-turned-vicious-vigilante who calls himself "Big Daddy" (played by Nicolas Cage in the first film), would provide plenty of narrative meat on the bones. It could focus on his tragic origins and how it molds young Mindy into the vicious young spiller of scum blood, Hit-Girl. This is especially amplified if Cage returns to the role. – Oh, who are we kidding with "if?!" This is Nicolas Cage, we're talking about, here!
Kick-Ass seemed to defy the odds as an R-rated comic book film property which, despite an "okay" box-office take, managed to spawn an R-rated sequel...which happened to fall on its green spandex-covered face. However, it clearly enjoys the benefit of having some very talented folks who remain committed to its continuing existence. I guess we'll see if Vaughn can earn some extra clout to help make that happen when Kingsman: The Secret Service makes its pitch to moviegoers at theaters this Friday.
Your Daily Blend of Entertainment News