Chloe Moretz's Brain On Fire Lining Up An Excellent Cast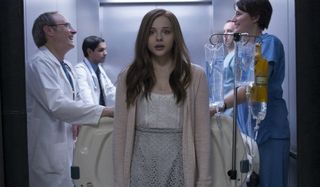 If you haven't read Susannah Cahalan's Brain on Fire: My Month of Madness, you should pick up a copy. When she was 24, the author woke up strapped to a hospital bed with no means of moving or speaking, and no memory of how she got there. A promising young journalist for The New York Post, she used her skills to investigate her own life and piece together the events that led to her mental break by interviewing her friends and family, pouring over security footage from the hospital, and interviewing the doctors and nurses who treated her. What she discovered changed her life forever. Now, this true tale is becoming a movie with Kick-Ass' Chloe Grace Moretz in the lead role, and the actress will be joined by some stellar co-stars.
Tyler Perry
Thomas Mann of Me, Earl & The Dying Girl and Jenny Slate of Obvious Child are already on board Brain on Fire, but Deadline reports that Tyler Perry is the latest addition. The director-writer-producer-actor is taking a break from his next projects to play Richard, Susannah's boss at The New York Post. Perry has been broadening his acting resume outside the realm of films within his banner. He was recently featured as the sleazy lawyer in the Oscar-nominated Gone Girl, and we'll see him take on the comic book role of Baxter Stockman in Teenage Mutant Ninja Turtles 2 in 2016.
Carrie-Anne Moss
Elsewhere, the trade also reports that Carrie-Anne Moss, our favorite ass-kicker from the Matrix saga, has joined Brain on Fire as Susannah's mom, Rhona Nack, who, along with her ex-husband, watches in horror as her daughter flails and thrashes in the hospital. Moss has been staying relatively under the radar lately, with roles in Pompeii, the Vegas TV series, and Compulsion with Heather Graham. But she recently made headlines when Marvel announced her in a role opposite Krysten Ritter in Netflix's Jessica Jones.
Richard Armitage
Lastly, Richard Armitage, who's known for playing Thorin Oakenshield in the Hobbit trilogy, will play Susannah's dad, Tom Cahalan. Aside from the world of Tolkien, Armitage has appeared on Hannibal as Francis Dolarhyde, in the found-footage disaster film Into the Storm, and he also had a small role in the first Captain America movie as Heinz Kruger, the assassin who shot Stanley Tucci's Dr. Abraham Erskine. Given the buzz around the memoir, this project is an interesting choice for everyone involved.
Brain on Fire is directed by Gerard Barrett and is currently in production in Vancouver. The film doesn't have a release date set just yet, though it's slated for 2016.
Your Daily Blend of Entertainment News
Thank you for signing up to CinemaBlend. You will receive a verification email shortly.
There was a problem. Please refresh the page and try again.