Chris Columbus Up For Movie Adaptation Of Viral Video Pixels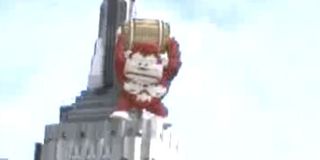 You might remember the creative short "Pixels" from when it went viral in 2010. The inventive little movie (seen below) showed what New York City would be like if things were a little more like video games - 8-bit ones to be specific. Turns out, pixelated mayhem would drop from the skies, converting our everyday streets into clunky blocks. Pac-Man would cruise the subway tunnels looking for a bite. Tetris pieces would eradicate skyscraper stories while Donkey Kong and Frogger cause traffic accidents. Sure, the show above is fantastic, but does it deserve a movie? Well, Lil Bub got one, and Grumpy Cat is getting one, so why the hell not?
THR reports that Columbia and Happy Madison (Adam Sandler's production banner) are circling Chris Columbus for the film's director's chair on what's said to be an action-comedy in the vein of Ghostbusters. Picking Columbus suggests the producers are planning an action-comedy that will appeal to the whole family, as this director has helmed such blockbuster kid-friendly features as Harry Potter and the Sorcerer's Stone, Mrs. Doubtfire, and Home Alone. Despite having blazed by their formerly announced release date, the filmmakers are said to only now be in early negotiations for the helmer's involvement. So who knows when a Pixels movie might shoot.
Happy Madison scooped up the movie rights to the viral vid back in 2010. Columbia Pictures, distributors of several Sandler vehicles include That's My Boy, Hotel Transylvania and the upcoming Grown Ups 2, was soon on the project as well, and Sandler brought on recurring collaborator Tim Herlihy (Little Nicky, Big Daddy, Bedtime Stories) to adapt the short into a feature-length script. Early on, Herlihy was also attached to helm, but that plan clearly didn't pan out. Since then, his draft has been rewritten by Tim Dowling, whose credits include the raved-about Role Models and the critically scorned Sandler comedy Just Go With It.
At this point, it's hard to know what to hope for with this proposed production. But at least the short's creator, Patrick Jean, will have some say, as he is an executive producer on Pixels.
Staff writer at CinemaBlend.
Your Daily Blend of Entertainment News
Thank you for signing up to CinemaBlend. You will receive a verification email shortly.
There was a problem. Please refresh the page and try again.