Is Chris Pine Going To Be The Next Green Lantern?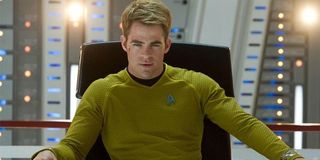 With all the rumblings over at Warner Bros. as they attempt to get their stable of DC Comics cinematic superheroes in order, one major player has been seemingly left out of the loop in Green Lantern. However, should the latest rumor prove true, then it seems that the emerald bling-powered pursuer of justice could be coming back to the screen with a new leading man in Chris Pine. Could the film franchise that fell on its face just four years ago be able to resurrect itself to exist in the new DC Comics movie universe?
It seems that an Instagram post by Latino-Review's Umberto "El Mayimbe" Gonzalez, has jumped on a rumor suggesting that Chris Pine, the current Star Trek franchise's Captain Kirk, is being considered to play the standard and most famous Green Lantern, Hal Jordan in some yet-to-be determined cinematic capacity. According to Gonzalez,
Of course, you won't need too long of a memory to recall that Ryan Reynolds took the spotlight in this same role back in 2011 for the green-themed 3D eyesore of summer-movie-season CGI. Much like Pine's recent Jack Ryan, Green Lantern was a bomb, which yielded a worldwide gross of $219 million for its $200M budget investment. While it stuck to a tried-and-true narrative framework of the reluctant hero, something just didn't click in the film. Unfortunately for Reynolds, he would have to fall on his proverbial sword for that one and his days topping the marquee on big-budget bonanazas appear to be close to over. (Although, the upcoming Deadpool contains the possibility of a career resuscitation.)
However, we shouldn't take that failure to mean that Green Lantern is a cursed property. In fact, this could represent an intriguing and promising casting possibility for Pine. Even if the rumor turns out to be false, he may want to proactively pursue this part; especially after his last major test for his solo big-screen bankability in last year's Jack Ryan: Shadow Recruit was anemic at the box-office. Nabbing the role of Hal Jordan/Green Lantern would represent a great opportunity to parlay his Star Trek geek-cred into a franchise that's compatible with his own ability to convey the healthy mix of handsome looks and witty sarcasm.
Unlike the Reynolds version, this (still hypothetical) rendition of Green Lantern would enjoy the benefit of coming into things with the framework of a movie universe already established. 2013's Man of Steel has served as the launching point that will facilitate the onscreen dream team-up with next year's Batman v Superman: Dawn of Justice. The mega-movie will not only see the return of Henry Cavill as the Blue Boy Scout, but the debut of Ben Affleck as the Dark Knight, Gal Gadot as Wonder Woman and Jason Mamoa as a badass new Aquaman. With all of that established, Chris Pine's Green Lantern could fit into the broader picture extremely well.
However, as mentioned, it's all still hypothetical. In fact, equally strong rumors point to a potential new movie rendition of Green Lantern featuring the African-American John Stewart, who in the comics serves contemporaneously as a Green Lantern along with Hal Jordan and others. It's a role that Fast franchise star, Tyrese Gibson expressed interest in taking. In fact, a more recent rumor implies that rapper/actor, Common really wants that role, as well.
Regardless of the truth behind the rumors, we can definitely count on Batman v Superman: Dawn of Justice laying critical groundwork for the heroes of DC Comics to financially compete with their counterparts in the continuity-connected Marvel Studios films. That will happen when the film hits on March 25, 2016.
Your Daily Blend of Entertainment News
Your Daily Blend of Entertainment News
Thank you for signing up to CinemaBlend. You will receive a verification email shortly.
There was a problem. Please refresh the page and try again.