Chris Pine Admits Jack Ryan Didn't Really Work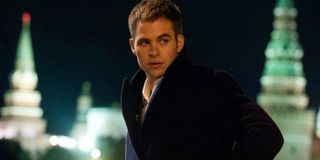 Chris Pine has admitted that his attempt to rejuvenate the Jack Ryan character at the start of the year didn't quite work out. However the Star Trek Into Darkness actor admitted that he still holds high hopes that the franchise will one day be given the cinematic treatment it deserves. Even if he's not the guy to play Jack Ryan when it does.
During a chat with Moviefone to promote his all singing and all dancing turn in Into The Woods, the conversation turned to Jack Ryan: Shadow Recruit and a potential sequel. However Chris Pine confessed that Shadow Recruit's underwhelming box office performance means that a follow-up isn't likely.
There were high hopes that Jack Ryan: Shadow Recruit would help to kick-start the movie year with a financial flourish. But unfortunately it only amassed $135.5 million at the worldwide box office, which means that a follow-up featuring the same cast and director isn't likely to be ordered.
The fact that it was also hardly a critical darling when it hit cinemas meant that Jack Ryan: Shadow Recruit never built up the momentum to reinvigorate the hugely popular Tom Clancy character. But even before it was eventually released, Jack Ryan: Shadow Recruit always looked as if it would struggle to avoid being anything other than a clichéd action-thriller. Its director, Kenneth Branagh, has always been more at home overseeing weighty period pieces or dramas rather than relentless, blockbuster adventures. Yes 2011's Thor showed promise, especially after the stupendous opening battle scene between the Asgardian warriors and the Frost Giants. But it ultimately deflated into tepid slap when it should have been an almighty wallop that would have made Mjolnir jealous. Jack Ryan: Shadow Recruit ultimately followed the same pattern, except that it didn't have Chris Hemsworth as Thor to cover any cracks.
And then there was Chris Pine. Don't get me wrong; I'm a big fan of Chris Pine. He is perfect as James T. Kirk in both Star Trek and Star Trek Into Darkness, while his work in the likes of Unstoppable, This Means War and Horrible Bosses 2 has proven just how charismatic, loveable and scrappy he can be.
But was he right for Jack Ryan? No. He doesn't possess that steely-eyed glare, which comes with the "think first, shoot second" mentality that permeates through the character. In fact, Chris Pine's warmness just glows whenever he is on screen. You can't help but see him as the aggressive underdog. Plus, in the end, Jack Ryan feels very much like a by-product of the Cold War era. When it truly felt as if one man could go in to a submarine and stop the world from annihilation. Unfortunately, since 9/11, the world has become a much darker and more complex place. And one where Jack Ryan just seems a little bit out of his depth.