Chris Tucker Could Star In Remake Of French Mega-Hit The Intouchables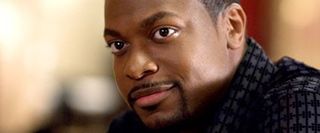 The French interracial buddy dramedy The Intouchables drew the eye of Hollywood producers by not only scoring plenty of praise—including 9 César Award nominations—but also by earning more than $405 million worldwide and becoming the highest grossing French feature yet. With successes like this, an English-language remake was guaranteed.
Hot off of the success of Bridesmaids, the comedy's director Paul Feig was up to helm The Weinstein Company's version of The Intouchables, and Colin Firth has been mentioned for the white male lead. But when it came to who would play opposite him, such big names as Chris Rock, Jamie Foxx and Idris Elba were in contention as of June. However, speaking to Black Film, Chris Tucker, who returns to theaters next week after a five year absence with David O. Russell's Silver Lining Playbook, revealed he too is being considered for the role originated by Omar Sy, stating:
Inspired by Philippe Pozzo di Borgo's personal memoir Le Second Souffle, the French film follows a wealthy white man whose extravagant lifestyle changes drastically after a paragliding accident leaves him crippled, without the ability to move his limbs. Forced to depend on an ornery and impoverished immigrant, the two strong-willed men form an unexpected but powerful bond.
The original film blended drama with comedy to create a heartwarming crowdpleaser, presumably a balance TWC would look to maintain. Of course, Tucker is best known for his broad and loud comedy style, but with the critically praised Silver Lining Playbook, he has been dabbling in dramedy. If this will be enough to appease the producers of The Intouchables remake, well, time will tell.
Staff writer at CinemaBlend.
Your Daily Blend of Entertainment News
Thank you for signing up to CinemaBlend. You will receive a verification email shortly.
There was a problem. Please refresh the page and try again.