Christopher Nolan Commits To Directing Interstellar, Plans Late 2014 Release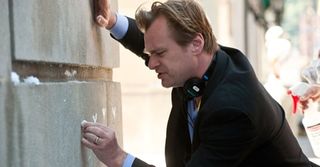 While we try to figure out if he indeed will be involved with Warner Bros.' plans for a Justice League movie, and even if he'll bring back Christian Bale as Batman, Christopher Nolan is moving on to a directorial effort that has nothing to do with comic books-- and, in fact, returns him to the kind of original storytelling that made him famous.
We've heard since mid-January that Nolan was planning to direct and write Interstellar, based on a script written by his brother, Jonathan. Now Deadline reports that not only has Nolan committed to the project, but he's set a release date of November 7, 2014, with an IMAX release planned. The movie is apparently so huge that it takes two studios to make it-- Paramount Pictures and Warner Bros. will be teaming up for the project, with Paramount distributing in the United States and Warner Bros. handling it worldwide.
As you might imagine, they're not revealing too many other details about the story, other than that it will "depict a heroic interstellar voyage to the furthest reaches of our scientific understanding." Sounds something like Prometheus, but knowing Nolan, it's bound to be a lot more complicated-- and potentially head-spinning-- than that. The November 2014 release date isn't far away at all, so expect some casting news and maybe a few more plot details about Interstellar in the coming months.
Staff Writer at CinemaBlend