Christopher Nolan Dazzles Hall H With A Breathtaking New Interstellar Trailer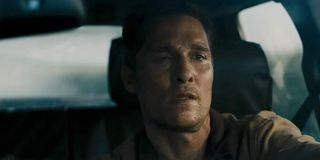 Matthew McConaughey's first trip to San Diego Comic-Con is a big story. Christopher Nolan's first trip to Comic-Con is an even bigger story. The two of them showing up to present new footage from the upcoming space-exploration thriller Interstellar? Well, that's easily the biggest story I was able to cover at Comic-Con on Thursday.
The powerhouse duo surprised crowds by showing up unannounced at the tail end of the Paramount panel in Hall H. Matthew McConaughey took the stage first, following a new Interstellar clip that largely relied on old newsreels of politicians (like John F. Kennedy), physicists (Neil Degrasse Tyson was spotted) and former astronauts (such as Buzz Aldrin) talking about risk being "the price of progress" and how our community used to take such pride in moments of human accomplishment. They talked about the need for us, as a human population, to explore – particularly in outer space.
Such is the predominant theme of Interstellar.
McConaughey spun a story about how he got the gig, recounting how he traveled from a set in New Orleans to Los Angeles, and spoke with Christopher Nolan for nearly three hours… except not about the film. The director must have liked what he saw, though, because he eventually offered McConaughey the role of Cooper, a former pilot and an engineer who's the widowed father of two kids. McConaughey explains that when the movie begins, the planet is "just maintaining." But we aren't growing crops or filtering waters. We're doing the bare necessity to survive. Then, McConaughey says, something happens that rekindles Cooper's desire to fly again, to be a pilot and to take part in "the greatest mission mankind has ever taken." To do that, however, he has to leave his children behind.
Before Nolan came on stage, McConaughey talked a bit about how the director works. He says that even though Interstellar is a massive-scale blockbuster, the director worked very quick, giving it an indie feel. He said they often limited scenes to two or three takes. At the same time, he described Interstellar as "by far the most ambitious film Nolan has ever done."
With that, Christopher Nolan took the stage, to the thunderous applause of the Hall H crowd. What did he have to say about his latest film, his most ambitious film?
Christopher Nolan acknowledges right off the bat that there are several other earlier projects (most involving a Bat) that could have drawn him to San Diego Comic-Con. He finally wanted to see what the hype was about, where the most intense discussions of pop culture take place.
When asked to elaborate on the thoughts that inspired Interstellar, he talks about how most kids in his generation grew up wanting to be astronauts. That was the chief aspiration, the sign that you had somehow made it. He told a heartwarming story about going to see Stanley Kubrick's 2001: A Space Odyssey with his father in a theater in Leicester Square, and wanting to create – with Interstellar -- a similar experience for a new generation that no longer turns its eyes to the big screen in hopes of seeing wondrous, imaginative sights. (He also threw out Star Wars and Blade Runner as inspirations for Interstellar… a good way to earn cred with the Hall H crowd.)
More than anything, Nolan promised a journey to universes unseen on screen before, but adventures rooted in very human conversations about what makes us human and why do we explore in the first place. He talked about using IMAX to "show the biggest possible phenomenon in the universe, and for that we need the biggest canvas."
And then he showed a trailer to back up his claims.
I don't want to give it all away. I want you to see it, and Nolan says that you all will – very soon. The first half of the trailer is similar to the one I included above. Mostly set up, explaining the sad state of the planet. We see Cooper (Matthew McConaughey) wrestling with having to leave his children – mostly his young daughter, Murph (Mackenzie Foy). And we see him promise, with tears in his eyes, that he will return.
From where? That's the meat of the second half of this new trailer… and it is glorious. Space travel painted in scenes we haven't seen in some time. Vast, picturesque imagery of alien galaxies. Wormholes, planets, stars – it's a blur of scientific beauty. I can not wait to see it again.
The Paramount panel somehow started with Spongebob SquarePants and ended with a breathtakingly miraculous Interstellar trailer introduced by Christopher Nolan. Only at Comic-Con.
Managing Director at CinemaBlend. ReelBlend cohost. A movie junkie who's Infatuated with comic-book films. Helped get the Snyder Cut released, then wrote a book about it.