Christopher Walken Joins Jason Bateman, Nicole Kidman For The Family Fang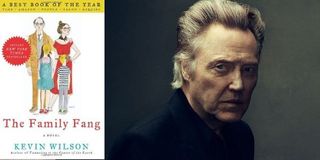 The Family Fang just got a bit more bite with word that Christopher Walken has signed on, joining a cast that's fronted by Nicole Kidman and Jason Bateman.
Variety reports Christopher Walken will play Caleb Fang, patriarch of the titular family. Bateman and Kidman will play his grown children, Annie and Buster. On top of that, Nicole Kidman and Jason Bateman will pull double duty with the former producing the project, and the latter directing.
Based on the best-selling novel by Kevin Wilson, The Family Fang centers on the titular clan who is deeply dysfunctional thanks to the vocation of mother and father Camille and Caleb, performance artists who put their craft above everything else, including their children. Throughout their childhood, Annie and Buster were the unwilling subjects of their parents' various works. As adults they stayed far away, but when both are in need of some sanctuary they return home, only to have their parents disappear.
The role of Camille Fang has not yet been cast.
Kidman's been behind this project since its start, carefully pulling together its pieces. News of this production first surfaced back in the fall of 2011, when Nicole Kidman secured the screen rights for The Family Fang with an eye toward starring. In the spring of 2012, she had scored a top-notch screenwriter to adapt the novel, hiring David Lindsay-Abaire. He'd previously collaborated with her on the extraordinary drama Rabbit Hole, which was based on Lindsay-Abaire's play of the same name.
Last fall, Kidman found her director and co-star in Jason Bateman, hot off the premiere of his directorial feature debut Bad Words at the Toronto International Film Festival. That R-rated comedy just had its theatrical release at the end of March. Bad Words received largely positive reviews, and earned $7.7 million over 8 weekends. Not enough to set the world on fire, but the movie has generated some serious excitement for Bateman's future as a director.
In case you missed it, here's the red band trailer for Bad Words. It is NSFW.
The novel The Family Fang has been described as The Royal Tennenbaums meets Who's Afraid of Virginia Woolf? So, it seems the brand of edgy comedy that Bateman forged with Bad Words is a fantastic starting point. Kidman has been known to dabble in dark comedy from To Die For to The Stepford Wives remake, and Christopher Walken is a comic genius of his own bizarre devising. Now, all that remains is to find a mama Fang who can further enhance this ensemble.
The Family Fang will roll into production this July.
Your Daily Blend of Entertainment News
Staff writer at CinemaBlend.