Chronicles of Narnia's Will Poulter Offered Maze Runner Lead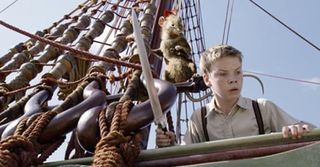 The Chronicles of Narnia franchise had kind of run its course by the time Voyage of the Dawn Treader came to theaters in 2010, making the kind of big money that's unimaginable for most of us but disappointing for studios hoping to bankroll a blockbuster. But the people who skipped out on Dawn Treader missed out on a seriously enjoyable performance from Will Poulter, the kid cast to play the obnoxious cousin Eustace Scrubb, owner of one of the best opening lines in literary history.
Poulter had previously played an even smaller breakout role in the British indie Son of Rambow, and booked a part opposite Jennifer Aniston and Jason Sudeikis in We're The Millers, but only now is he setting up a proper star turn. Deadline reports that Poulter has been offered one of the lead roles in Maze Runner, an adaptation of the post-apocalyptic sci-fi book about a group of boys trapped in a maze as part of a test. As you might imagine the book is the beginning of the series, and reviews compare the book to The Hunger Games and Divergent-- both of them other dystopian young adult novels that have led to film adaptations.
A lead role in a big young adult franchise can lead to huge things-- just ask Jennifer Lawrence. But after his part in Dawn Treader didn't necessarily jump start his career, Poulter may be extra-eager to take on Maze Runner and show more of the world what he can do. With a newcomer named Des Ball on board to direct and no studio attachment, Maze Runner may be an underdog in the coming glut of futuristic young adult adaptations… but if Poulter continues showing the same talent, that might not last long.
Staff Writer at CinemaBlend
Your Daily Blend of Entertainment News
Thank you for signing up to CinemaBlend. You will receive a verification email shortly.
There was a problem. Please refresh the page and try again.