Clash Of The Titans And Harry Potter Converting To 3D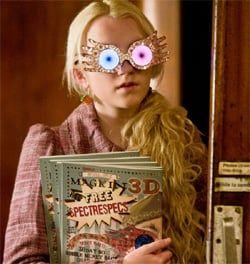 The 3D effects of Avatar were far too powerful for my dad forcing him to pull over and let loose on the side of the road on his way home. It looks like he'll have to suck it up and just get use to the format because Avatar's record-breaking success is sending other studios scrambling to convert their 2D films to 3D, namely Warner Bros. Not only will the studio bring us Clash of the Titans in 3D, but the final two Harry Potter films as well.
Warner Bros. has yet to confirm the news, but according to THR, early 3D conversion tests for Clash of the Titans were so successful it led to the decision to give both Harry Potter and the Deathly Hallows films the extra dimension. The studio is expected to formally announce the updated plan for Titans by the end of the week and for Potter thereafter.
From the WB's perspective, 3D conversion is a no-brainer. Avatar was made for 3D, but both Clash of the Titans and the Potter films were shot in 2D. For just $5 million, Warner Bros. can run the films through the process, bulk up the ticket prices and pull in quite an additional haul at the box office. Great for them but will the bloated cost be worth it for moviegoers? It's going to be a toss up because the conversion process for a live action film is far different than the procedure for an animated film like Toy Story. Hopefully Warner Bros.' enthusiasm over the Titans test run is justified.
Unfortunately we'll have to wait an extra week to see for ourselves. Rather than hitting theaters on March 26th, the additional work pushes back the Clash of the Titans premiere to April 2nd. The Harry Potter films are still on track to hit theaters on November 19th, 2010 and July 15th, 2011.
Your Daily Blend of Entertainment News
Staff Writer for CinemaBlend.