Clerks 3 Will Be Inspired By A Classic Shakespeare Tragedy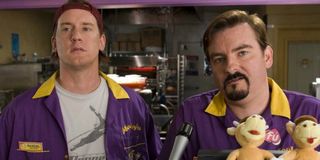 Yes, Kevin Smith is still working on Clerks 3, and he's still talking about it. The comic book aficiondo and filmmaker has been chatting about making this movie for what seems like forever, and he still two other movies to make -- Mallrats 2 and a Tusk spinoff called Yoga Hosers that stars Johnny Depp -- before he returns to this property. But for those still aching to see the third installment, you can rest assured knowing that Smith has taken some cues from William Shakespeare in conceiving this project.
The Hollywood Reporter reports that during the Producers' Guild meetings in L.A., Smith shot off a tidbit or two about Clerks 3. If you're a fan of King Lear, then perhaps you'll appreciate its influence on Smith's work. He said,
Not all that much is known about the plot of Clerks 3, which is a shock, considering how many projects Smith is juggling and mentioning to press. The film was supposed to be his next project, but then he said that he had to start shooting Mallrats 2 because of the availability of the set. And now, according to this THR story, he's filming Yoga Hosers. But Smith did say a few months back that Clerks 3 will be like The Empire Strikes Back of this franchise, except that it doesn't really tell the middle story. So, it's basically The Empire Strikes Back meets King Lear in a convenience store. Great!
The first Clerks was shot in black and white, and told the story of store clerks Dante and Randal as they talked about movies, played hockey on the video store's roof, and annoyed the heck out of customers. The second film picked things up a decade later. Randal left the coffee pot on after closing their newly opened Quick Stop, setting the store and RST Video on fire and forcing the duo to work at a fast-food chain called Mooby's. Jason Mewes and Kevin Smith are expected to return as stoner duo Jay and Silent Bob, while Jeff Anderson said he will reprise his role of Randal Graves. Rosario Dawson, who played Becky in Clerks 2, confirmed she'll return for the sequel, as well.
According to Philly.com, the Greater Philadelphia Film Office issued a crew call for Clerks 3. The call stated that production on the film will begin early this month and is expected to run for five weeks. However, Smith recently said that production will begin in May, and before that he was hoping to get this ready for theaters in 2014. So, at this point, we'll believe it when we see it. But it is still happening.
Your Daily Blend of Entertainment News
Your Daily Blend of Entertainment News
Thank you for signing up to CinemaBlend. You will receive a verification email shortly.
There was a problem. Please refresh the page and try again.