Clerks III Is Coming, Here's What We Know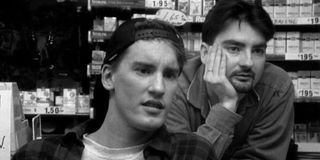 It's been nearly twenty years to the day since Kevin Smith made his theatrical debut with Clerks. And apparently the New Jersey born-and-raised director feels this is the perfect time to start dropping details on the long-teased Clerks III.
Recently on Smith's podcast Smodcast (via Movie Pilot), he invited on Jeff Anderson, who played Randal Graves in Clerks, and the two got to talking about the evolving Clerks trilogy. After joking that Smith has touted all kinds of spin-offs for the indie film (including a Broadway play), Anderson said of Clerks III:
Okay, so Clerks III is different from the other movies, but not that different. Anderson declined to give any plot points of the upcoming film. However, he did confirm that he will return to reprise the role of Randal. As for Smith, he revealed one way the third installment of the Clerks trilogy won't be all that different from Clerks: It'll be in black and white. Well, the first ten minutes will be anyway.
Beyond that, expect Jay and Silent Bob to strike back yet again, appearing in Clerks III, roundabout as much as they did in Clerks and Clerks II. The only other clue Smith offered about Clerks III's story was this:
Kevin Smith, quick tip--be careful about mentioning The Empire Strikes Back. Lucasfilm is a bit territorial.
As to when fans might expect to see Clerks III, /Film notes that Smith hopes to shoot in June of 2015. Unclear is whether he will complete his True North trilogy before then. Its first installment, Tusk just hit theaters, and he is current shooting its second, Yoga Hosers. The third is Moose Jaws; when it'll shoot is currently unclear.
Your Daily Blend of Entertainment News
Staff writer at CinemaBlend.
Your Daily Blend of Entertainment News
Thank you for signing up to CinemaBlend. You will receive a verification email shortly.
There was a problem. Please refresh the page and try again.