Mallrats 2 Is Happening A Lot Sooner Than We Thought, Get The Details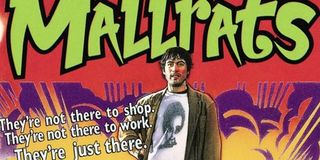 Kevin Smith has been firming up the cast for Mallrats 2, the sequel to the second feature film he directed after Clerks. A slew of actors have joined the ranks of the long-talked-about project, and now it looks like things are moving faster than we anticipated. In the latest installment of his Hollywood Babble-On podcast, Smith stated that Mallrats 2 is the film he's focusing on next, which means we'll have to wait even longer for Clerks 3.
ComicBook.com transcribed the podcast, in which Smith said scheduling concerns forced his hand. As he described, he needed a "big, old, empty mall" that he wanted to blow up. This, apparently, actually happens in the third act of the film. He found a mall that would allow him to pull this idea off, but "in order to get to that mall before it goes away," plans had to change. Smith was considering first shooting Clerks 3 this summer and Mallrats 2 in 2016. The plan changed, once again, thanks to "a f---ing mall that we all dig that will be going away." Now the priority for Smith is Mallrats 2, which he plans on shooting this year.
We haven't heard much of plot details for the sequel, but this whole blowing up a mall situation suggests the old crew will get back together to go out in a literal blaze of glory. According to Smith, Mallrats 2 has been a Blues Brothers-esque experience; "We're putting the band back together, on a mission from Smod," he said. Jason Lee (Brodie), Shannen Doherty (Rene), Jeremy London (TS Quint), Ethan Suplee (Willam), Jason Mewes (Jay), Michael Rooker (Svenning) and Stan Lee have all enlisted for the sequel. More recently, Smith announced that the sequel has added Renee Humphrey (Tricia), Joey Lauren Adams (Gwen), Sven-Ole Thorsen (La Fours), Scott Mosier (Roddy), Bryan Johnson (Steve-Dave) and Walter Flanagan (The Fanboy). After Smith announced Thorsen's involvement on Twitter, he mentioned that he had four left to cast. Johnson and Flanagan followed shortly, so that now presumably leaves two open spots. Unfortunately, Smith said he still hasn't heard any word from Batfleck's camp.
Affleck is currently shooting Batman v Superman: Dawn of Justice, and he's super jacked now for his role as the new Caped Crusader. But he should have some time to pop in for some Mallrats 2 shenanigans...or more Volkswagen jokes.
It might even be funnier with his newfound superhero bod. But would he even want to return, now that he's an Oscar winner and comic book movie mainstay? Smith has nearly the entire band back together, and it'll be interesting to see which others he chooses to return.
Your Daily Blend of Entertainment News
Thank you for signing up to CinemaBlend. You will receive a verification email shortly.
There was a problem. Please refresh the page and try again.