Comic Con: Exclusive Interview With Mystery Team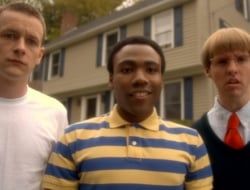 Unlike thousands of Comic Con goers, I wasn't actually lucky enough to catch a screening of Mystery Team, the first feature from the newly relocated to Los Angeles comedy troupe Derrick Comedy. But I think I got the next best thing, constantly running into the five of them at various parties, so that by the time our scheduled Sunday interview rolled around, we all knew each other. That's the magic of Comic Con-- even among 150,000 convention-goers, it's a small world after all.
When Mystery Team premiered at Sundance, it inspired CB Head Honcho Josh Tyler to write "It's fresh, it's unique, and funnier than hell." Having hung out with them, I'm ready to believe the hype. Mystery Team explores what would happen if a trio of Encylopedia Brown-style child detectives made it to the age of 18 without actually learning anything about being adults. Master of Disguise Jason (Donald Glover), Boy Genius Duncan (D.C. Pierson) and Strongest Kid in Town Charlie (Dominic Dierkes) are teenage dimwits still solving minor mysteries when a little girl asks them to discover who killed her parents. Dark, hilarious antics ensue.
At their Sunday afternoon panel, the Derrick guys didn't show clips from the film, but a brand-new short featuring the Mystery Team characters solving the "Mystery of the Moaning Ghost." The ghost, of course, turns out to be one of their high school classmates, who is shirtless and sharing a room with the Governor, who just attempted to flush down the toilet a special balloon that tastes like seawater. The short, gross and hilarious and dark in equal measure, had the audience in hysterics, and after some antics in which Glover took the stage wearing a fake mustache and a Confederate flag bandana, the real Q&A began.
Instead of that Q&A, though, I'm bringing you my interview with all of Derrick Comedy, on the exhibition floor at their Mystery Team booth, where they were greeting fans all morning. The group is made up of the three Mystery Team members, plus producer Meggie McFadden and director Dan Eckman. I kept in a moment when a fan passing by interrupted the interview, just to give you an idea of how gracious all of them are with their fans. As Mystery Team rolls into theaters starting this August, Derrick Comedy will be traveling the country to promote it, doing live shows and attending as many screenings as they can. If you enjoy seeing them on screen, you definitely don't want to miss them in person.
In the interview below, we talk about the origins of Derrick Comedy, the decision to make Mystery Team their first feature, Dan Eckman's love of young boys, the awesomeness of Avatar, and various other relevant and not-so-relevant topics. The video is shaky and handheld and it's loud in the background, but the five of them are funny and totally energetic, so it's worth a watch. At Comic Con, where giant movies starring giant movie stars get the most attention, it's fun to pay attention to a tiny indie that's just as much a crowd-pleaser. Look for Mystery Team in your town starting this September.
Staff Writer at CinemaBlend
Your Daily Blend of Entertainment News
Thank you for signing up to CinemaBlend. You will receive a verification email shortly.
There was a problem. Please refresh the page and try again.