Is Common Playing Black Manta In Suicide Squad?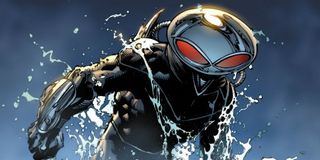 We learned recently that Oscar winner Common joined the already immense cast of David Ayer's Suicide Squad, proving that practically every DC comic book villain will pop up in this film in some capacity. But now the fun part comes: speculating which character he'll play. Unfortunately, the latest rumor might have already solved this one for us.
The latest Suicide Squad morsel comes from Paul Shirely, editor-in-chief of JoBlo. It remains unconfirmed, so take it with a grain of salt, but it's interesting enough to warrant a tweet: Common could be playing Black Manta in the DC supervillain team-up.
This could prove to be a big deal, not only for Suicide Squad fans, but Aquaman lovers, as well. Black Manta is one of the Atlantian warrior's most widley recognized adversaries. As a ruthless treasure hunter and mercenary, he made a living scouring the ocean's depths for undiscovered treasures and mystical objects for whoever would pay. On one mission to acquire Arthur Curry's (aka Aquaman's) blood, the encounter caused Curry's father to have a fatal heart attack. Curry then went after Black Manta and inadvertently killed his father instead, which is how the never-ending cycle of revenge began for the two.
It won't surprise us if this rumor turns out to be true. Suicide Squad is already packed with a ton of DC characters, including the officially announced Joker (Jared Leto), Harley Quinn (Margot Robbie), Deadshot (Will Smith), Captain Boomerang (Jai Courteney), Enchantress (Claire Delevingne), Amanda Waller (Viola Davis), and Rick Flagg (Joel Kinnaman). Outed by the press were Killer Croc (Adewale Akinnuoye-Agbaje), Lex Luthor (Jesse Eisenberg), Jonny Frost (Jim Parrack), El Diablo (Jay Hernandez), King Shark (Raymond Olubowale), Ravan (Adam Beach), Hugo Strange (Ike Barinholtz), and Plastique (Karen Fukuhara), though most of these remain unconfirmed. Still to be revealed is the identity of actor Scott Eastwood.
All these characters point to different areas of the DC cinematic universe, and Black Manta would be a major flip in Aquaman's direction. Jason Momoa landed the role of the ocean's defender and will make his first appearance in Batman v Superman: Dawn of Justice before standing alone in his own Aquaman movie. Details are currently unknown as to what his solo adventure will entail, though we know that more than one script was developed, with Warner Bros. selecting the best story arc.
Though Common's role in Suicide Squad seems small, could he have signed a multi-picture deal? If so, we might see him down the road in Aquaman.
Your Daily Blend of Entertainment News
Your Daily Blend of Entertainment News
Thank you for signing up to CinemaBlend. You will receive a verification email shortly.
There was a problem. Please refresh the page and try again.