Suicide Squad May Feature A Prison Cameo From Another Famous Villain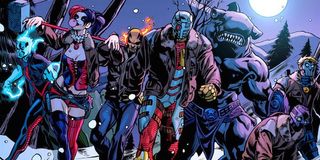 Next year's comic book-inspired rampage of rogues, Suicide Squad, has already distinguished itself with an extensive, impressive cast that's armed with the potential to help set the stage for a burgeoning DC Comics cinematic continuity over at Warner Bros. In fact, a notable tidbit about a confirmed cast member and his reptilian character has just emerged, hinting an interesting slow-burn rollout.
According to Umberto "El Mayimbe" Gonzalez of Latino Review, the brutish, grotesque villain, Killer Croc, who will be played by Adewale Akinnuoye-Agbaje, will show up in Suicide Squad in a cage. Gonzalez's source indicates that the role of Killer Croc will actually only be a glorified cameo. Reportedly appearing deformed and in heavy makeup, the character will be depicted as the leader of a prison gang in Belle Reve Penitentiary. However, he is said to have a scene with Will Smith's character, Deadshot, and will apparently factor into "the big set piece at the end of the film."
While it has been known for the better part of a month that Akinnuoye-Agbaje was cast as Killer Croc, the scope of his prospective role had yet to be revealed. While nothing has been confirmed, it does seem to play to an educated guess that Croc's role, as with the rumored cameos of other comic characters, would be minimal. The film is already stacked with a primary team of Will Smith as Deadshot, Jai Courtney as Boomerang, Cara Delevigne as Enchantress, Margot Robbie as Harley Quinn, Viola Davis as Amanda Waller, and Joel Kinnaman as Rick Flagg, not to mention Jared Leto's Joker looking to grab the spotlight.
Debuting in 1983 in the pages of the Batman comic book, Killer Croc has been a repertory, rampaging thorn in the side of the Caped Crusader ever since. However, his evolution as a character is one of the more interesting cases in the history of comics. Croc was originally depicted as just a muscle-bound man suffering from a genetic condition that gave him scaly, super-durable skin and exceptional strength. As time went on, various renditions of the character throughout the decades started to emphasize the reptilian aspect to his appearance, to the point that he became, for all intents and purposes, a hulking humanoid crocodile with claws, razor sharp teeth, and demonic eyes who dwells in the sewers. However, what hasn't changed about the character is that he's always been a bit obtuse, relying primarily on his superhuman strength, which often results in destructive attacks against Batman and other heroes.
For Adewale Akinnuoye-Agbaje, best known from Thor: The Dark World, G.I. Joe: The Rise of Cobra, and TV's Lost, it's looking as if this role won't require him to endure the time-consuming, torturous process of prosthetics and makeup for too long. However, his presence, by way of a possibly critical scene with Will Smith, could set the stage for the character's appearance in either a Suicide Squad sequel, or maybe even as an antagonist in an upcoming Ben Affleck solo Batman film. In all likelihood, the character won't be a big factor in his live-action debut, but that could make it more of an opportunity for the actor to use the brevity of that part to slowly shape what could be his most unique, memorable role yet.
Suicide Squad could be looking to have the Fresh Prince of Bel Air in the pen, buddying up with a monstrous inmate even more intimidating than Uncle Phil, when it hits theaters on August 5, 2016.
Your Daily Blend of Entertainment News
Your Daily Blend of Entertainment News
Thank you for signing up to CinemaBlend. You will receive a verification email shortly.
There was a problem. Please refresh the page and try again.