Jared Leto's Joker Look Is Full-Blown Insanity, Check It Out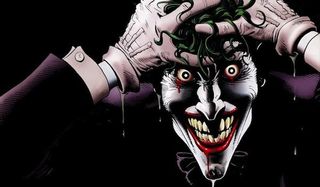 We've seen hints and teases of what Jared Leto's Joker looks like in the upcoming Suicide Squad, but director David Ayers just hit Twitter with our first full view of the Clown Prince of Crime, and it's not like anything you expected. Even for the Joker, it's totally nuts. Check it out for yourself.
Much like when we saw the first picture of Heath Ledger as Joker in The Dark Knight, Leto's gives us a radically different version of the iconic villain. While he retains his trademark green hair and red lips, his pale skin looks more fleshed-toned compared to the chalk white hue from the comics. The purple glove adds more familiar color, while you'll notice on his left hand he has a pinky ring. Evidently this is a Joker who likes the bling.
What really draws the eye are the tattoos all over his body. There are multiple "Ha Ha Has" on the left side of his chest and left arm, a demonic jester skull on the right side of his chest, a sinister smile on his right arm, several cards on his left shoulder, a target (or maybe another mouth?) on the top of his left hand, and the word "Damaged" on his forehead. There are a few others that are harder to make out, specifically the words on his abdomen and back, but overall it's a very inmate kind of look, which is fitting given the reports that Joker spends most of Suicide Squad imprisoned.
However, the one thing the separates this cinematic Joker from the rest is his teeth. The bottom front half appear to caps, which has me suspecting that at one point he got those knocked out by Batman. It's harder to tell what the deal with the top front half is, but it looks like those could also be caps, or he has somehow darkened them himself. Either way, just looking at his expression assures us that this Joker is just as insane as the previous versions.
Admittedly, this is a Joker look that might take some getting used to, but given that the DCCU's version of the super villain has been causing chaos for years by the time Suicide Squad begins, it makes sense that he wouldn't look clean-cut after all this time. It's also weird not seeing him in his iconic purple suit, but when one is stuck in a prison full of superpowered and special criminals, fashion isn't always a big concern. Regardless, with this image combined with that voice tease Leto gave earlier in the month, Suicide Squad's Joker will assuredly be terrifying and creepy as hell. Personally, this just has me even more excited to see the first clip of him in the Suicide Squad trailer. With the whole ensemble together, this is definitely going to be a unique version of the character, and God have mercy on anyone who gets too close to him.
You can see the Joker, alongside a variety of other DC super villains, when Suicide Squad hits theaters on August 5, 2016.
Connoisseur of Marvel, DC, Star Wars, John Wick, MonsterVerse and Doctor Who lore. He's aware he looks like Harry Potter and Clark Kent.
Your Daily Blend of Entertainment News
Thank you for signing up to CinemaBlend. You will receive a verification email shortly.
There was a problem. Please refresh the page and try again.