Concept Art From The Incredibles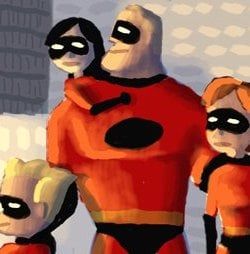 Yeah, yeah, The Incredibles is old news, but is there ever a moment where you're not in the mood to revisit one of Pixar's most gorgeous and entertaining features? Lou Romano, who has served double duty for Pixar in their art department as well as providing voices for several characters (including Linguini in Ratatouille), has posted a slew of concept images from the making of The Incredibles. There's everything from early concept images, before they even knew what the characters would look like, to schematics of individual scenes to give the lighting artists an idea of what they were working with. You can recognize several shots directly from the movie.
I've included a couple images in the gallery below, but you should really head over to Romano's blog to see the huge amount of material he's posted. After all, we won't get another Pixar movie until next summer, so this will make the wait a bit easier.
Staff Writer at CinemaBlend
Your Daily Blend of Entertainment News
Thank you for signing up to CinemaBlend. You will receive a verification email shortly.
There was a problem. Please refresh the page and try again.