Congress Will Preserve Airplane! And The Empire Strikes Back For All Time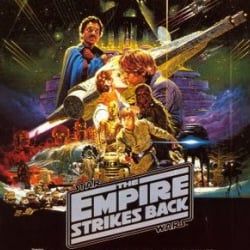 Every year the Library of Congress selects 25 films to add to the National Film Registry, a collections of films deemed "culturally, historically or aesthetically" significant, not necessarily the best. With only 25 films added each year and the entire span of film history to cover-- the Registry was established by Congress in 1989-- there are always plenty of titles to add each year, and 2010's lot includes a lot of movies of undeniable importance to our culture: The Empire Strikes Back, All the President's Men and The Pink Panther are all part of this year's class.
It's an especially good year for George Lucas, whose student film Electronic Labyrinth: THX 1138 4EB also made the lineup. There's also a bumper crop of films from the 1970s in the group; in addition to the titles listed above, the Registry now includes The Exorcist, Grey Gardens, McCabe and Mrs. Miller, Saturday Night Fever and 1980 classic Airplane!. I'm sure it's probably a coincidence that the director of Empire (Irvin Kershner) and star of Airplane! (Leslie Nielsen) passed away in the last year, but it's a nice honor either way.
With classic movies newly released on DVD and Blu-ray each week, to the point that movies virtually no one remembers are available on store shelves, we don't really have to worry about films being lost to time the way we did even in 1989 when the National Film Registry was established. But there's something comforting about knowing that, no matter what happens to the American empire, 400 years from now whoever wanders in to-- conquers?-- Washington will be able to find The Empire Strikes Back and learn something about us. It's the kind of idea that would make George Lucas happy too, I think.
Check out the full list of 25 below (via Deadline).
Staff Writer at CinemaBlend
Your Daily Blend of Entertainment News
Thank you for signing up to CinemaBlend. You will receive a verification email shortly.
There was a problem. Please refresh the page and try again.