Connie Britton Will Date Adam Driver In This Is Where I Leave You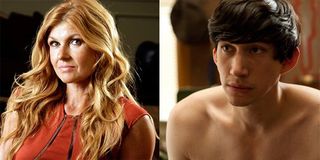 As the miracle-haired star of ABC soap Nashville and the oddball leading man on HBO's down-and-dirty Girls, Connie Britton and Adam Driver come from TV universes so different it's impossible to imagine them breathing the same air. And yet, as if my DVR had suddenly developed a mind of its own and produced a perverse spin on The Dating Game, they'll finally meet in the comedy This Is Where I Leave You, which already has a ton of stars on board and has recently added Britton to the flock.
According to Entertainment Weekly Britton has signed on to play the girlfriend of Driver's character, the youngest of four siblings who have gathered at their childhood home to sit shiva for the week after their father's death. The fact that Britton is 16 years older than Driver is part of the point-- he's the black sheep of the family, and bringing home an older girlfriend is just another way for him to shock the gout. Of course, the fact that the girlfriend is also a psychoanalyst means she'll have a prime opportunity to pick apart the group of nut bags who have gathered for the week.
The cast of the film, adapted form Jonathan Tropper's novel and directed by Shawn Levy, has been getting better and better with each announcement, starting with Tina Fey and Jason Bateman in the lead roles, then adding actors from virtually every TV show you've ever loved: House of Cards's Corey Stoll, Justified's Timothy Olyphant and Parks & Recreation's Ben Schwartz, Damages's Rose Byrne and Jane Fonda, who isn't a TV star but is a goddamn living legend to make up for it. Even though Levy's the guy who brought us Real Steel and the Night at the Museum movies, the cast he's lined up for this seems to suggest something far beyond them. At the very least, it'll give us the weirdest romance that we never knew we secretly wanted.
Your Daily Blend of Entertainment News
Staff Writer at CinemaBlend