Of Course Meryl Streep Sings And Plays Guitar Perfectly In New Ricki And The Flash Clip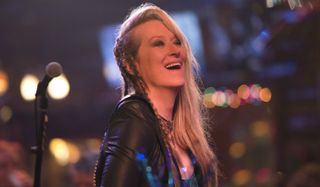 Aside from looking like a character from American Horror Story: Coven, Meryl Streep has a lot of great musical moments in Ricki and the Flash. Playing an aging rockstar, the three-time Oscar winner sings "American Girl," "Wooly Bully" and even Lady Gaga's "Bad Romance," but the latest clip from the film features her vocal talents on a new song called "Cold One." Watch her in action below.
We all knew Streep could sing after watching her in the Golden Globe nominated Into the Woods, adapted from the beloved Stephen Sondheim musical of the same name. But this is a new venture for her. In the film, Streep plays Ricki, a woman who left her husband (played by Kevin Kline), her daughter (Mamie Gummer) and two sons (Sebastian Stan and Nick Westrate) in order to pursue the life of a rocker. Years later, she's called back to help her daughter, Julie, when she falls into a deep depression after her husband leaves her for another woman. As Ricki is rekindling her relationship with her family, she performs an acoustic version of a song she wrote called "Cold One."
The lyrics, too, are reflective — even if, perhaps, too much so — of her situation. "I was a cold one to leave that way," refers to her leaving. "But no one stood in my way/ and no one asked me to stay," hints that her family didn't put up enough of a fight to keep her there. Despite all the pain she caused, though, she sings, "there's no one I'd rather be." "Cold One" is available for purchase on iTunes, along with the rest of the soundtrack, which includes "Keep Playing That Rock and Roll," "Drift Away," "My Love Will Not Let You Down" and a cover of Pink's "Get This Party Started."
To prep for the role, Streep took guitar lessons from legendary musician Neil Young. She recently told Jimmy Fallon that her first lesson was 45 minutes long and his advice to her was to crank up the amplifier to 11, presumably a reference to the Rob Reiner spoof documentary This Is Spinal Tap. "These go to 11…"
The reviews for Ricki and the Flash are out, and though critics generally praised the performances in the film, including Rick Springfield as Streep's love interest and lead guitar player, the film as a whole suffered from the generic script. And it was written by Diablo Cody, who won an Oscar for her work on Juno, which is pretty disappointing. However, watching Streep sing while playing a guitar is part of what makes this film a joy to watch. You can read our full review right here.
Your Daily Blend of Entertainment News