How To Watch American Horror Story: Coven And Two More Great Shows That Just Started Streaming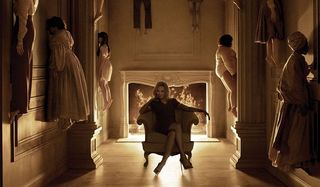 Deck the halls with soundproof paneling. Fa-la-la-la-la-la-la-la-la. Tis the season for streaming, not channeling. Fa-la-(coughing fit). I was never cut out to be a caroler. But something I'm really good at is sitting a few feet away from a lit-up Christmas tree and watching a bunch of stuff that I couldn't catch up on earlier in the year. Join me, won't you? (Just at your own house.)
While American Horror Story is currently spinning the wheels of an uncomfortable trip into the Freak Show, viewers who still haven't caught up with last season's bewitching Coven plotline are in luck. With Jessica Lange anchoring this tale of witches, witchhunters, voodoo queens, devils, and Gabourey Sidibe masturbating in front of a minotaur, American Horror Story hit some of its weirdest highs and lows during this season. Highs? That special guest spot from Stevie Nicks and the crazyballs performances from Kathy Bates and Lance Reddick. Lows? Emma Roberts: Superbitch and Sarah Paulson's eye problems.
Watch the first three seasons of American Horror Story on Netflix, Amazon Prime, and Hulu.
Dammit, Chloe! Fox brought super-badass Jack Bauer (Kiefer Sutherland) back to audiences for the limited series 24: Live Another Day earlier this year, and I'm sure you won't be surprised to find out that it was one of the hardest days of Jack Bauer's trouble-filled career. Set four years after Season 8 capped off and following a slightly sped-up time pattern, this pseudo-season finds Bauer is still a fugitive who only pops back into the government's eyesight because he hears about an assassination attempt being planned on President James Heller. He gets added to the anti-terrorist team, but soon realizes that the threat is even bigger than he could have ever imagined. A return to form for the series, even if the form is the abundantly ridiculous one that 24 kept stretching out as it went on.
Watch all eight episodes of 24: Live Another Day on Amazon Prime.
Black Mirror – Seasons 1 and 2
One of the best anthology series ever conceived, the deliciously twisted Black Mirror was created by U.K. brainiac Charlie Brooker as a look into the dark and dangerous territories of technology's near-future. (The name refers to the screens of our TVs, phones, etc. when they're off.) There have only been six episodes thusfar – with a Jon Hamm-filled Christmas special coming this month – but they're all winners. A lot of modern topics are covered in haunting ways, from obsessions with reality TV to the way social media is used to do things. One of the episodes, about an implant that lets you record everything your eyes see, was even picked up for film development by Robert Downey Jr.'s production company. It's smart stuff that is all the more frightening for its thinly hyperbolic satire. This might be our future one day.
Watch both seasons of Black Mirror on Netflix Instant.
And when you're done with all of these, hit the next page to find more new-to-streaming shows that might be up your alley.
Bill Burr: I'm Sorry You Feel That Way
The Legend of Korra – Season 2
Nick is a Cajun Country native, and is often asked why he doesn't sound like that's the case. His love for his wife and daughters is almost equaled by his love of gasp-for-breath laughter and gasp-for-breath horror. A lifetime spent in the vicinity of a television screen led to his current dream job, as well as his knowledge of too many TV themes and ad jingles.
Your Daily Blend of Entertainment News
Thank you for signing up to CinemaBlend. You will receive a verification email shortly.
There was a problem. Please refresh the page and try again.