Why Dwayne Johnson's Lobo Film Was Indefinitely Delayed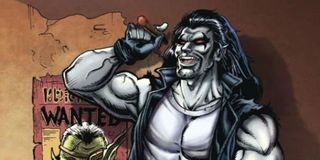 A couple years ago, the dream of creating a Lobo movie all fell apart. There was no definitive answer as to why it happened, and it was mostly assumed that Dwayne Johnson was too busy to see it to fruition. But then Johnson reteamed with director Brad Peyton for a different project and DC's intergalactic anti hero was pushed aside. Now, as the duo's project, San Andreas is about to hit screens, the question of Lobo has been brought up once again. And this time around, Peyton shares what really happened to interstellar mercenary.
Over the weekend at the San Andreas junket, Peyton explained the problem of seeing smaller characters in the DC Universe getting screen time. There are just too many major characters to cover, before DC can get into the lesser known realms. Peyton told ComingSoon.net:
Lobo, who had previously been rumored to show up in Justice League has had quite the run in DC Comics. Originally created in the 1980s, Lobo went on to get his own comic in the early 90s and the Czarnian became somewhat of an anti-hero biker, often considered an over-the-top parody of Marvel's Wolverine. Lobo had a short run as one of DC's most popular characters in the 90s, so there are surely many fans out there who would love to see his standalone movie come to life. But unfortunately, the studio has delayed it, indefinitely.
Peyton, when asked if the success of Guardians of the Galaxy could help get the ball rolling with Lobo (as the two share similar space-traveling themes). But Peyton didn't seem to have much hope:
So if and when DC sets up its team, is there a future for Lobo? It doesn't sound like the cards are completely off the table. Though, since Dwayne Johnson first signed up for the character, he has committed to playing Black Adam in Shazam. Not sure that playing two roles in the DC Universe would make much sense if they are starting to connect them. DC has movies scheduled all the way up through 2020 too, so it will be some time before we hear about any forward progress on Lobo. For now, you can catch Peyton and Johnson's latest project, San Andreas hitting theaters May 29.
Your Daily Blend of Entertainment News
Thank you for signing up to CinemaBlend. You will receive a verification email shortly.
There was a problem. Please refresh the page and try again.