Watch The Rock Pull Off An Impossible Rescue In First Full San Andreas Scene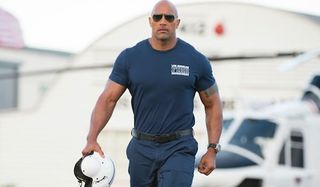 When Dwayne "The Rock" Johnson takes on his next opponent, which consists of actual rocks in the upcoming earthquake epic, San Andreas, he'll flex "The People's Elbow" to rescue people as an emergency helicopter pilot. In a brand new clip released for The MTV Movie Awards Takeover, the world's most electrifying helicopter rescue pilot tells the laws of physics to know its role and shut its mouth.
With San Andreas, The Rock won't be portrayed as he's typically been on the big-screen, as a beefy bounty hunter, some super-soldier, or even a quasi-historical sword-swinger. Instead, he'll glorify the real life heroes that are rescue workers…at which point, he'll build them up to ridiculously superhuman standards that no one can ever meet, thereby completely depleting their collective self-esteem.
As we see in this clip, Johnson's character, Ray, makes such a badass helicopter rescue pilot that he takes his bird out solo amidst what appears to be a continent-crushing catastrophe with zero f**ks given about the danger. Hell, he even steps away from the control stick, leaving the harangued helo parked in mid-air, in the middle of a crumbling, apocalyptic City of Angels. Of course, his motivation for this particular rescue is understandable, seeing as the damsel in distress happens to be his wife, Emma, played by Carla Gugino.
It seems that Ray's motivation to keep Emma from being crushed by all of Los Angeles is so strong that some kind of forceful chi keeps his helicopter completely still, despite the fact that a giant skyscraper just collapsed to rubble just a few feet away. Perhaps the clip conveniently omitted the moment where The Rock looked at the colossal collapsing structure with an intimidating grimace and told it to "know your role," at which point the until-now unknown survival instincts of the Earth's gravitational pull decided to make a life-preserving decision and heed his words, toppling the building somewhere else.
The big-budget bonanza sees the Brad Peyton, who directed Dwayne Johnson in Journey 2: The Mysterious Island and its upcoming sequel, looking to revive the tried-and-true genre that is the disaster flick. From a visual standpoint, the effects look stunning, and the various trailers and clips we've seen seem to point to this being a fun, accessible popcorn flick that both reinforces the unfathomable dangers of putting a major metropolis directly on a fault line, and the overarching message that natural disasters are no match for bulging biceps and witty one-liners.
Joining the world's most badass rescue worker and Carla Gugino in this cast are Alexandra Daddario, Paul Giamatti, Colton Haynes, Archie Panjabi, Ioan Gruffudd, and, for some reason, Kylie Minogue. San Andreas could be set to tell the story of how Nevada becomes beachfront property when it hits theaters on May 29.
Your Daily Blend of Entertainment News
Your Daily Blend of Entertainment News
Thank you for signing up to CinemaBlend. You will receive a verification email shortly.
There was a problem. Please refresh the page and try again.