Cowboys & Aliens Teaser Poster: A Man, A Gun, A Future Wrist Machine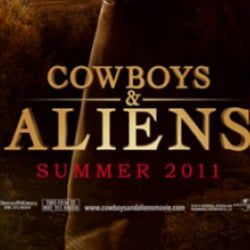 With the Cowboys & Aliens teaser trailer finally set to hit theaters in front of Harry Potter and the Deathly Hallows this week, now's the time to start getting properly excited about the new film from Jon Favreau, which stars Daniel Craig as an old-timey cowboy forced to fight off aliens and all the futuristic technology that comes with them. Everything in that previous sentence is perfectly capture in the film's new teaser poster, which debuted today at Yahoo! Movies. You've got "from the director of Iron Man." You've got a man, a cowboy hat and a rifle, plus a wrist-mounted type of weapon that looks straight out of Tony Stark's lab. Take a look below (click on it for Yahoo's larger version) and meet me after for some more chatter.
I love pretty much everything about this poster, from Daniel Craig's classic cowboy stance to the fact that they're obscuring his face-- he looks more iconic that way-- to the slight hint of of the alien technology on his hand. It's pretty similar in style to the first image released earlier this summer-- cowboy dude, weird technology combined-- and based on what Eric saw at the movie's Comic Con panel, there's a whole lot more to be excited about seeing in the teaser trailer this week. As you can see in the counter below, the trailer will show up on Yahoo! Wednesday afternoon around 1 p.m. EST. You can bet we'll be bringing it to you, with screenshots and commentary galore, as soon as that happens.
For everything we know about Cowboys & Aliens so far, check out the movie's page in our Blend Film Database.
Staff Writer at CinemaBlend
Your Daily Blend of Entertainment News
Thank you for signing up to CinemaBlend. You will receive a verification email shortly.
There was a problem. Please refresh the page and try again.