The Emotional Story That Convinced Sylvester Stallone To Do Creed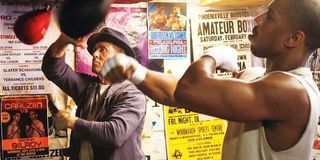 Spinoffs to beloved hit movies often times feel like a quick cash grab from a studio that cares more about profiting off of one film's popularity than necessarily making another good movie. However, that doesn't appear to the case the with upcoming Rocky offshoot, Creed, and there's a brutally emotional story from director Ryan Coogler that convinced Sylvester Stallone to lace up the gloves one more time.
Talking to EW, Coogler, who first burst onto the scene in 2013 with Fruitvale Station revealed that the idea for Creed is something he's has been kicking around since high school, and begin life as a way for him to connect with his father. He said:
Coogler actually had the chance to pitch the idea before production began on his first feature. Sylvester Stallone was, understandably, protective of the Rocky Balboa character. However, after Fruitvale Station, based on the real life death of a young man named Oscar Grant, made waves on the festival scene and gathered loads of critical acclaim, Stallone relented and agreed to put on his Italian Stallion trunks for another round.
In addition to working with Stallone, Creed once again teams Ryan Coogler with his Fruitvale Station star Michael B. Jordan. The actor endured an intense, 11-month training regiment to learn how to box, including while he was filming Fantastic Four—let's hope this one has better luck than the lackluster superhero adventure.
Jordan plays Adonis Johnson, who, as you probably guessed from the title of the movie, and the trailer that dropped a while back, is the son of Carl Weathers' Apollo Creed, who perished in the ring early on in Rocky IV at the hands of Ivan Drago (Dolph Lundgren). The story follows Adonis and his struggle to become both a boxer and a good man, and he enlists the aid of his pop's old pal, Rocky Balboa, to help on both counts, whether he realizes it or not. And though this obviously isn't going to be a Rocky-centric film, there definitely appears to be enough for fans of the pugilistic franchise to cling to. Enthusiasts will notice that the trailer reference the Rocky/Apollo fight alluded to at the end of Rocky 3, which is a nice nod.
It's been nearly a decade since Rocky Balboa, but we'll show up at the theater any time there's a new chapter added to the saga. It doesn't hurt that Creed stars a fantastic young actor, is a passion project from a promising up-and-coming director, and that this trailer looks great.
Creed hits theaters on November 25.
Your Daily Blend of Entertainment News
Thank you for signing up to CinemaBlend. You will receive a verification email shortly.
There was a problem. Please refresh the page and try again.