Black Panther May Have Found Its Director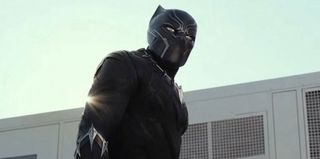 As with many high profile movies, we've heard a number of different rumors about who might direct Marvel's upcoming Black Panther. From Selma's Ava DuVernay to Straight Outta Compton's F. Gary Gray, and more, none of the potential names have panned out. If a new report making the rounds turns out to be legit, however, the comic book giant could be in the hunt to land a fantastic young director: Creed's Ryan Coogler.
Coogler only has two feature directorial efforts under his belt, Fruitvale Station and Creed, but they're two films that definitely caught people's attention. Now Birth.Movies.Death. reports that sources close to the situation informed them that the 29-year-old filmmaker is in talks to direct Black Panther.
Though the report is quick to point out that the two sides are still just in the discussion phase, this would be big for both Coogler and Marvel. Despite what Anthony Mackie said to the contrary, many have come out publicly stating that Black Panther, the first superhero movie fronted by a black protagonist, needs to have black director. Coogler himself recently said as much. Though he didn't specifically put himself out there as a candidate, perhaps this caught the eye of someone at Marvel.
Or it was Creed, which is not only performing well at the box office, but garnering fantastic reviews, with many singling out and celebrating Ryan Coogler's work, that piqued their interest. If this works out, not only would Marvel be doing something about the lack of diversity that they've been criticized for quite a bit recently, but they would also be hiring one of the most promising young filmmakers on the scene.
Coogler jumped from the 2013 indie drama Fruitvale Station to his first studio job with Creed, and while that can be daunting for some, he totally delivered. Not only did he find a fresh new approach to the venerable Rocky franchise, breathing new life into a series of movies many thought were done, he has an interesting visual style and isn't afraid to take risks. That scene in the middle of Creed, where an entire boxing match plays out, over multiple rounds, in a single take—that was actually filmed in a single take—is phenomenal, and illustrates just what he can do behind the camera. While this may not be a big action scene, like he would find in Black Panther, it shows has a unique aesthetic sense and that he has a handle on intricate choreography and staging.
Ryan Coogler sounds like the perfect choice to helm the first solo adventure for Black Panther, who, in addition to being a superhero, does double duty as the king of the fictional, technologically advanced African nation of Wakanda in the comics. The character will make his big screen debut next year in Captain America: Civil War, and his solo film hits theaters February 16, 2018. We'll keep you posted on the director hunt.
Your Daily Blend of Entertainment News