The Croods And Surprisingly Big Olympus Has Fallen Dominate Friday Box Office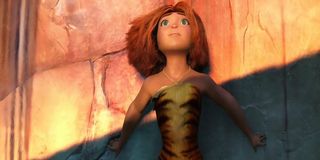 Though there are pretty much no guarantees at the box office-- studios will pump hundreds of millions of dollars into films that seem like sure things and go on to be bombs-- it's hard to go wrong with an animated children's film around the season of spring break. DreamWorks Animation, which needed a hit after last fall's disappointing Rise of the Guardians , scored another this weekend with The Croods, which made $11.6 million on Friday and is on track for a $42 million weekend.
That handily made it the #1 movie on Friday, but it got surprisingly strong competition from Olympus Has Fallen, which according to Deadline made $10 million on Friday, putting it on track for a $28 million weekend-- particularly strong considering its hard-R rating. That's slightly more than the family-friendly Jack the Giant Slayer made in its disappointing debut, and a whole lot more than the $24 million A Good Day to Die Hard made in its own bummer weekend. Here's another, hilarious way to look at it: by the end of this weekend Olympus Has Fallen will have made more than Gerard Butler's last five movies combined.
The news isn't quite as good for Tina Fey and Paul Rudd, the incredibly likable stars of Admission which only managed to make $2 million on Friday and is heading toward a $6.4 million weekend. That would put it in fifth place, right behind-- unbelievably-- the cult festival hit Spring Breakers, which has expanded to wide release and made $1.9 million on Friday. That's far, far more than any Harmony Korine-directed movie has ever made, and sure, it probably happened because it can boast a whole lot of young girls in bikinis on the poster-- but the fact that it's a hilarious and truly bizarre film ought to help too.
We'll have a full box office report to you on Sunday, but in the meantime, hop in the comments and let us know what you're seeing this weekend!
Staff Writer at CinemaBlend
Your Daily Blend of Entertainment News
Thank you for signing up to CinemaBlend. You will receive a verification email shortly.
There was a problem. Please refresh the page and try again.