Tina Fey Asks Paul Rudd For A Role In Anchorman 2, And More On Admission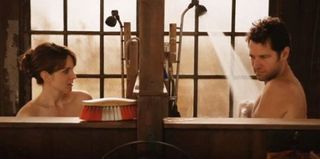 After seven celebrated seasons and countless killer punch lines, 30 Rock, the showbiz sitcom brilliantly peppered with meta comedy came to a close a few weeks ago. But thankfully, for those of us already craving a fix of its creator and star Tina Fey, she's got a new movie coming out this weekend, in which she once again plays a professional woman trying to find a balance between her work and her personal life with hilarious results.
Directed by About a Boy helmer Paul Weitz, Admission stars Fey as Portia Nathan, a college admissions officer for the esteemed Princeton University. Gunning for a big promotion, Portia strives to keep her interactions with prospective students and their parents/teachers on a strictly professional level. But she can't seem to shake a particularly pushy and charming high school teacher, played by Paul Rudd, who has a quirky but genius applicant under his wing.
In the film, Rudd and Fey share such a dynamic comedic chemistry that it's shocking they haven't been teamed up before. And the witty back-and-forth I witnessed on screen played out in real life when the two participated in a round table interview, stuffed with eager interviewers, a few weeks back. The pair shared a jovial ease and exchanged jokes while talking about their new movie as well as their own college days. And when the time was right, Tina made a public plea for Paul to get her into Anchorman 2! (Please let that happen. I want to go to there.)
For each of you what did you see as the biggest challenge of these characters?
Tina: For me, it was just trying to do a good job on what I felt was the dramatic arc of the movie. There were certainly scenes that were more emotional than anything I had to ever do before. So I was trying to prepare for that correctly and have that be believable.
Paul: Just do it was the challenge. Yeah, and hope that you buy it, that you buy me in the part, that it works in the context of the story, that the conflict seems legit, that the character is not one-dimensional. You know, all those things that I think kind of existed in the script, and the challenge is just bringing the material to life. Oh god, did I just say that? (Tina laughs.)
Tina: You did!
Paul: Forgive me.
Tina: I respect it.
You both went to pretty good schools. Could you relate to the application process as we see it in Admission?
Tina: Well, I wasn't growing up in some private school world where it was expected to try to get into an ivy league school or something. I mean, I tried a little bit. But I think people who grow up—either because of what their family is into or where they grow up—it's like if you don't get into Harvard, Yale or Princeton, you're done. And I think that's craziness.
Paul: I never grew up with that at all. I didn't apply to any of those schools, mainly because I knew I wouldn't have gotten in. But I was just kind of out to lunch when it came to all that kind of stuff, and my parents never went through it. They're European. I got out of school I was maybe going to go to art school, and I couldn't afford it. So, I went to the University, Kansas University because I lived in Kansas City. Then I decided I was going to study theatre. Then I went to an actual acting school. But I never went through that whole crazy process.
What was it liked coming from Kansas City to New York?
Paul: I wasn't born in Kansas City; I was born here. Then I lived in Kansas, then California, then back to Kansas. My parents were British and nobody in my family did this. But it felt normal to me because I was pursuing what I wanted to do. And I had, you know, as much false confidence as I could possibly muster because my parents told me as a young kid that I could be anything that I wanted to be and I actually believed them!
You waited tables and all that?
Paul: Yeah, I did that. I waited tables when I was in school for a while. I worked at a Bennigans. I was working in the kitchen in a Benigans, I didn't even get to wait tables.
Tina: You weren't even front of house!
Paul: I was in the back expediting and making salads. When you were a DJ at bar mitzvahs, what were the popular tracks?
Paul: Well, there were a couple. MC Hammer's "Can't Touch This" was pretty popular. And Right Said Fred's "I'm Too Sexy For My Shirt" was a huge crowdpleaser. Then there were just kind of classics, like "Mony Mony" and "What I like About You" by the Romantics. I don't know if—I've been out the bar mitzvah DJing scene for a while now. I don't know if they are still popular, but they were big hits when I was spinnin.'
Tina, did you have similar experiences?
Tina: Of being a DJ? I made cheesesteaks at a swim club snack bar, so that my mom could get free access to the pool all summer long. My brother did it for years. Then she transitioned me into doing it so she could continue to have employee access to the pool. And I worked at a YMCA outside Chicago. My hours were like 5:30 in the morning to like 2:30 in the afternoon. That was my first real job.
As an actress and even more so as a writer, what is the secret to great comedy?
Tina: Oh gosh, obviously try to surround yourself with people who are really funny and good at it, like Paul.
But when you're writing?
Tina: Well even then, try to surround yourself with other people and write together, that always helps. And trust your own instinct on what's funny to you instead of trying to think of some magical outside idea of [what's funny].
Was it hard to shoot some of the scenes in this movie without laughing? Like the shower scene?
Tina: There are so many built-in humiliations in a thing like this. And also I feel like it was like one o'clock in the morning [when we shot that.]
Paul: And I think it might have been like one degree.
Tina: Yeah! We shot that shower scene very late in the evening.
Paul: It was cold.
Tina: Just out of frame I'm wearing—as I always am wearing—a rolled down bikini top. And they get you one like, "Oh we'll get you a skin-colored one just in case it shows" but it's a weird tan bikini top and then like Jamz, and Crocs. And you're standing on a barn floor. And so it's already ridiculous!
You didn't need to wear that Paul?
Paul: I didn't have the rolled down bikini top but I did have the Jamz, and I think I might have had the Crocs too.
Tina: Because it was not clean!
Paul: No, we were in a barn. And so it's cold and all the steam you see, it's not real—
Tina: It's like dry ice steam.
Paul: Yeah, it's all fake. So it's not—
Tina: It wasn't really a shower, it was thing that was built and put into a barn. So there was a guy named Phil, same guy who was in charge of helping us make the calf give birth props-wise, and he would just—
Paul: Phil's the real magician behind our film!
Tina: And he was pumping the water from somewhere.
Paul: God knows where.
Tina: You always had the fear that the water was going to turn ice cold at any second.
Tina, do you see this as Act Three in your life now that 30 Rock is done?
Tina: I see it as a series of increasingly larger grifts that I'm running. 30 Rock was more of a shell game, this is more of a real estate Ponzi scheme that I've perpetrated on America. Well, this happened while 30 Rock was still going, on a summer hiatus. And it felt like a really lucky thing to be offered to do, and a part that made sense. Like I always am enthused when I see a part where people speak intelligently and speak like adults but also I go, "college admissions lady, do I look like that? Yeah, I could look like that. " I look like that more than perhaps Denise Richards looks like that. This makes sense.
You got called a cougar though, so…
Tina: It's in my contract.
Did you feel pressure shooting very quickly on the set?
Tina: Well, I'm very used to shooting that fast because of TV. And I bet you are for some—like for David [Wain's] movies.
Paul: Yeah.
Tina: How many days did you shoot with Amy [Poehler] on David's new movie (They Came Together)? Nine days?
Paul: Nine days? Yeah, it was about a nine-day shoot. (Tina laughs.) I'm used to working on fairly compact schedules. I mean a lot of independent movies are done in a short amount of time.
Tina: It keeps it kind of lively, as long as they can light fast enough.
Paul: I like it, yeah. Oh yeah!
Even though its called Admission, it deals with themes of adoption, ethics. Do you see the audience walking away from any other kind of theme from this particular project?
Tina: I think it has a lot to do with parenthood and the kind of sacrifices people make as parents. And kind of coming around on that moment when you realize you can't fight it. Like with [Paul's] character, being a parent is going to change your life. In ways that are not always your choosing. So I think that is definitely a theme in the movie.
Paul: Hearing Tina say that, I remember when I had my first child, my son who is now eight. Early on people would say, "When you have a kid, the kid will adapt to your life. You don't adapt to a child's life, a child will adapt to a parent's life."
Tina: Who were you talking to?!
Paul: I actually believed that for a few months! I thought when they are a baby, sure, "I want to go out to dinner. It's fine, we can take the baby." But that does change pretty, pretty quickly. And that was certainly something I thought about a lot with the character I'm playing where he has this boy. And he's a guy who has lived his life the way he wants to live it and it's becoming increasingly difficult.
Tina, did you get a chance to actually talk to one of those admission people so that you could get help sort of tapping into your role?
Tina: I did. Well, Jean Korelitz who wrote the book, she worked in admissions and I met her many times and I talked to her. And I did talk to one or two other people who worked on admissions, and the one thing that was interesting was that one person wasn't working on the movie and was an admissions person said to me that was actually kind of in the script. She said, "You know people think we really want to say 'No' to everyone. When really what we want to be saying, 'Yes.'" You know, their happiest moments or what their goal is is to say yes to as many kids, and kids who they think will thrive in whatever school it is. So that I thought was an interesting thing that Jean had already written the same thing and Karen had written the same thing into the script.
What do you think is the basic element that turn a comedy into a classic, and for Tina do you think Portia would be averse to therapy what with her toxic mother and all?
Tina: I think she would have been resistant to therapy because she's kept so many of her own secrets for so long that once she started her work it would have been very exhausting. But I'd imagine that by the last part of the movie we could believe that she has began working on that start a little bit. What was part A of that question?
Paul: What makes a comedy a classic. Well, for one I think it has to be really funny, and funny over a long period of time. Like if it was funny ten years ago it has to be funny twenty years ago.
Tina: Yeah, like I was watching Trading Places on TV recently, and Eddie Murphy in the first five minutes at least pretending that he's homeless, pushing himself around on his knees on a board and the cops come. So funny! It's so funny right out the gate! It holds up.
Tina, how do you balance movies, TV, acting, writing, and caring for you kids? Any advice. We heard you were multi-tasking on this, doing the movie, writing scripts and taking care of your children.
Tina: Well, I try to take care of my children, yeah. But I have a lot of help with that. But no, I wasn't writing anything as the same time as this because I wanted to make sure I was focused. But you just take as much help as you can get. And try to go to sleep when no one is looking.
Would you admit Jeremiah to Princeton?
Tina: Yes, I would say yes because he really is that brilliant.
Paul: (nods firmly.)
As a woman who is able to get movies made in Hollywood, do you feel like you're being offered the right roles? Are they offering you stuff that you want?
Tina: Sure. I'm not a person that expects to be like, (affecting a fancy accent) 'Let me see my offers today!' You know, there's a lot of real movie stars in the world and I'm always thrilled anytime the phone rings about anyone saying do you want to do anything. (To Paul) And no one from Anchorman 2 has called, so if you could pass that along.
Paul: I'll let them [know], yeah. That's surprising to me.
Tina: So, yeah a part like this I feel so lucky to have been offered this lovely role.
Tina, your next movie is Muppets…Again, are you doing that one for your kids?
Tina: No, I want to spend time with Muppets.
Staff writer at CinemaBlend.
Your Daily Blend of Entertainment News
Thank you for signing up to CinemaBlend. You will receive a verification email shortly.
There was a problem. Please refresh the page and try again.