Crouching Tiger, Hidden Dragon Sequel Brings Back Ziyi Zhang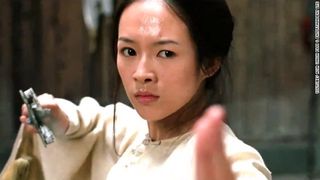 The Crouching Tiger, Hidden Dragon sequel, which still seems like a fever dream Ang Lee had on that Life of Pi rowboat, is moving forward, and has added another star to an already impressive arsenal. Entertainment Weekly reports that Ziyi Zhang is in talks to join the film, reprising her role as young warrior Jen Yu opposite Michelle Yeoh, who is also set to return. Zhang's part appears to be a small one-- the report says she'll only be seen in flashbacks that explain what happens to her character, whom we last see in Crouching Tiger, Hidden Dragon leaping into the clouds.
Yeoh's Yu Shu Lien will be at the center of the story, which is based on the same Crane-Iron Pentalogy series that inspired the original film-- yes, even though Crouching Tiger felt wild and completely new when it took over theaters here, it's based on familiar stories in China. John Fusco, writer of scripts as varied as Young Guns and the recent martial arts film The Forbidden Kingdom, is adapting the screenplay, and Yuen Woo-ping will be taking over directing duties. Yuen isn't as big a name in the West as Ang Lee, but he's one of the best martial arts choreographers of all time, responsible for classics like Jackie Chan's Drunken Master and Tai Chi Master, and brought to Hollywood by the Wachowskis for The Matrix and Quentin Tarantino for the Kill Bill movies. He took a 15-year break from directing films until 2010, when he returned with True Legend, which featured Michelle Yeoh.
Yuen worked recently with Zhang as well on The Grandmaster, the martial arts film from Wong Kar Wai that opens-- in a much shorter version than the one that was a hit in China-- in North America this weekend. The action in the film is stunning, and a promise that Zhang has lost none of the skill she showed in Crouching Tiger 13 years ago. Yes, the idea of a sequel to a film more than a decade old always, always reeks of desperation, and there's still been no convincing explanation for why this sequel needs to happen now. But set aside whatever expectations you might have from the original, and think of it this way: impressive martial artists, a legendary fight choreographer, and a little bit of magic are going into the Crouching Tiger sequel. Anyone who thinks that doesn't sound good doesn't deserve to watch people fight each other on tree limbs.
Staff Writer at CinemaBlend
Your Daily Blend of Entertainment News
Thank you for signing up to CinemaBlend. You will receive a verification email shortly.
There was a problem. Please refresh the page and try again.