Daniel Radcliffe Wants To Work Some Magic Behind The Lens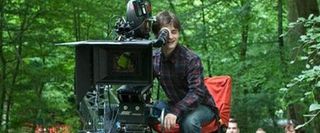 After playing Harry Potter in eight films, just about any move Daniel Radcliffe made next would be a big one. Then again, after his runs in Equus and How to Succeed in Business Without Even Trying on the stage, we should already know Radcliffe is capable of far more than waving wands in Voldemort's face. Sure enough, he's about to prove it this weekend, starring in the horror film The Woman in Black. Think going from Hogwarts School of Witchcraft and Wizardry to the eerie Eel Marsh House is a big move? How about going from in front of the camera to behind it?
While out promoting The Woman in Black, Radcliffe noted that he particularly appreciated the opportunity to work with director James Watkins because "he gives very specific, precise notes on what he needs to tell the story." He added, "That's why I particularly enjoyed working with him because I have aspirations to direct and I feel like I learned a huge amount about direction from him in terms of how he uses every opportunity to tell the story, makeup, costume, everything."
Could you imagine a bunch of Hogwarts kids striking up spells to magically set up lights without lifting a finger and having the camera dangling in the air sans jib? Come on; we can dream! But seriously, for someone who's basically grown up on a film set, having a go at directing seems like a natural transition.
But don't get too excited just yet. While Radcliffe definitely wants to direct, he doesn't see it happening anytime soon. "If I haven't done something in the next 10 years I'll be disappointed," and that something doesn't necessarily have to be a feature; he'd be content with a short. He joked, "I won't give myself an actual date. Or maybe I should give you the release date now like studios do for films that haven't even got scripts yet."
In the meantime, Radcliffe shows no signs of slowing down, with The Woman in Black hitting theaters on Friday and Kill Your Darlings going into production in March. Of that project, Radcliffe explained, "I'm really excited about that. That's, without a doubt, the biggest challenge I've had yet, playing Ginsberg." He added, "I think it's gonna be an amazing film. And so far we've got a fantastic cast. It's me, Dane [DeHaan], Jack [Huston] and Lizzy [Olsen] and there's many more very exciting people to be announced."
Your Daily Blend of Entertainment News
Staff Writer for CinemaBlend.
Your Daily Blend of Entertainment News
Thank you for signing up to CinemaBlend. You will receive a verification email shortly.
There was a problem. Please refresh the page and try again.