The Dark Knight Dedicated In Memory Of Heath Ledger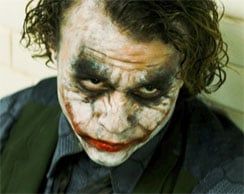 Heath Ledger's tragic and untimely death has guaranteed two things: First, that his performance in The Dark Knight will never be evaluated objectively. Second, that at some point he's going to have a movie dedicated to him. To no one's surprise, that movie is The Dark Knight.
We have confirmed tonight what most had probably already assumed. The Dark Knight will contain a dedication to Ledger. Warner Brothers posted the dedication today when they released the movie's official credits on their press site. It'll happen during the sequel's end credits, and read this way: "In memory of our friends HEATH LEDGER & CONWAY WICKLIFFE."
For those who don't remember, Conway Wickliffe was the special effects tech who was killed on the Dark Knight set when the chase vehicle he was driving hit a tree. It's more than appropriate that both he and Ledger get some sort of acknowledgment. Nice to know that, even though we all assumed they would, Warner Brothers is doing it.
Your Daily Blend of Entertainment News
Thank you for signing up to CinemaBlend. You will receive a verification email shortly.
There was a problem. Please refresh the page and try again.