The Dark Knight Plotline Christopher Nolan Thought Was Way Too Far Fetched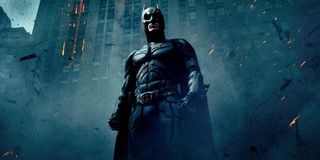 The Dark Knight is now regarded as one of the seminal blockbusters of the last decade. It's the perfect meshing of action, plot and characterization that also sees its director Christopher Nolan and actors Heath Ledger, Christian Bale and Michael Caine at the peak of their powers. But now Christopher Nolan has revealed that it was almost all so different.
While out promoting his most recent effort, Interstellar,, Christopher Nolan was inevitably asked about his beloved work on his Dark Knight saga. During his discussion with The Daily Beast he intriguingly revealed that The Dark Knight was almost a completely different movie. After it was noted how similar the actions of Edward Snowden and the NSA leaks were to The Dark Knight's conclusion, Christopher Nolan explained that it was almost so much more prescient.
The scene in question from The Dark Knight that Christopher Nolan is referring to is the revelation that Christian Bale's Bruce Wayne/Batman has overseen the development of a device that can track the location of the residents of Gotham courtesy of their cellphones. Morgan Freeman's Lucius Fox is rightfully disgusted that Bruce has had a hand in the creation of this probing machine. Of course Bruce Wayne has only reverted to this invasive action because of the terror being orchestrated by Heath Ledger's The Joker. Once Batman has brought The Joker to justice the machine then implodes, much to the joy of Lucius Fox. You can check out the High Frequency Generator machine in all of its glory below.
Jonathan Nolan, who has had a hand in writing The Dark Knight, The Dark Knight Rises,,Inception and Interstellar, went on to create Person Of Interest in 2011. The show, which is currently in its fourth season, revolves around Jim Cavaiezel's John Reese using an omnipresent surveillance system to track down violent crimes across New York City. The show has received mostly positive reviews and has managed to attract a consistently large audience. However it hasn't truly managed to grip the country with its content, despite the revelations from Edward Snowden that started in June 2013. Which probably proves that Christopher Nolan was right to dismiss it for the blockbuster sequel after all.
Your Daily Blend of Entertainment News