The Dark Knight Rises Adds Pittsburgh To Shooting Locations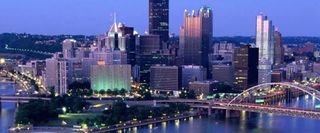 With plans reportedly still in the works for Batman to pay a visit to the city that calls itself Gotham, New York, a city just a little bit west has confirmed that production on The Dark Knight Rises will be setting up shop there too. The Pittsburgh Post-Gazette has confirmation from Christopher Nolan himself that he'll be shooting for four to six weeks in the downtown Pittsburgh area. Here's what Nolan had to say in a statement:
Director of the Pittsburgh Film Office Dawn Keezer said the production had yet to settle on specific locations, but "what they really fell in love with was the diversity of architecture and the gorgeous buildings that we still have in Downtown Pittsburgh and the surrounding areas." There's no evidence that the production will be using Pittsburgh to replace Chicago as the setting of Gotham City, or if they'll be supplementing Chicago locations with PIttsburgh to expand the feel of the fictional city.
I have it on fairly good authority that there will indeed be some shooting of The Dark Knight Rises in New York this summer as well, while it's also been confirmed that the production will move down to New Orleans as well. (UPDATE: It turns out the Pittsburgh shoot is likely a replacement for New Orleans, as reported by local blog Nola.com) As of yet there's no shooting confirmed for Chicago. Given that Batman was on the run at the end of the second film, should we be expecting a globetrotting, or at least country-trotting, superhero this time around? Or is Nolan merely stitching together any number of American cities to further build his Gotham? Given how little we know about what's happening in the plot, any and all guesses can be entertained at this point.
Your Daily Blend of Entertainment News
Staff Writer at CinemaBlend