The Dark Knight Rises Cancels Paris Premiere, Colorado Shooter Identified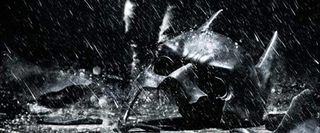 News is coming in quickly about this morning's shooting at a theater in Aurora, Colorado, where a midnight showing of The Dark Knight Rises had just begun when a gunman opened fire, killing 12 people and injuring as many as 50 more. According to Denver's Fox 31 the shooter has been identified as 24-year-old James Holmes of North Aurora. He remains in custody and sources say he didn't resist arrest. His only previous criminal record was a minor traffic violation last year.
The horrifying details of the shooting itself are almost too many to count at this point. Some reports say there are as many as six children being treated for injuries, one as young as six years old-- other reports say there is a three-month-old being treated. Some say children are among the dead. An eyewitness at the scene reported seeing a girl hit in the jaw. Several of the victims have been identified, though it will be a long time before there is any solid information on the extent of the injuries. Of the 12 dead, 10 were killed inside the theater and 2 died after being transported to the hospital. A lot of this news is coming fast and furious on Twitter, which means much of it could be revised or proven outright false-- this early in the story, it's hard to know much for sure, especially filtering everything from afar.
The Paris premiere of The Dark Knight Rises, which had been planned for tonight, has been cancelled, and cast members have cancelled interviews. Warner Bros., Christopher Nolan and actors have yet to make a statement (UPDATE BELOW), but you can expect one shortly. In the meantime here are the statements from President Obama and Mitt Romney about the tragedy (via THR).
UPDATE #1 A Reddit user has posted a photo of his gunshot wound, if you can stomach it. Clearly, he survived the injury.
UPDATE #2 Warner Bros., via Deadline, has issued a succinct statement:
Staff Writer at CinemaBlend
Your Daily Blend of Entertainment News
Thank you for signing up to CinemaBlend. You will receive a verification email shortly.
There was a problem. Please refresh the page and try again.