The Dark Knight Rises Definitely Includes Talia Al Ghul, But As A Child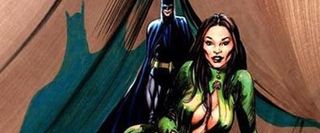 From the moment Marion Cotillard was cast as the previously unknown character Miranda Tate in The Dark Knight Rises, speculation ran rampant that she would instead be playing Talia al Ghul, daughter of the villain Ras al Ghul played by Liam Neeson in Batman Begins. We know that Josh Pence has been cast to play a younger version of Ras al Ghul in a flashback, but most speculation had pointed to Cotillard playing his daughter in present day. But what if Talia wasn't appearing in the present day of the film, but in the past?
That's the crazy idea pointed to clearly by, of all things, a story in the local British newspaper The Surrey Comet about child actress Leilah De Meza, who apparently was offered the role of "young Talia al Ghul" in The Dark Knight Rises. According to De Meza's mother she turned down the part because it would have required her to shave her head-- "We were concerned how this could have affected Leilah's confidence and general social welfare." The story was passed on to io9 by a reader, and as they point out this doesn't necessarily mean that Cotillard is in fact playing the older Talia-- but then again, why would they introduce a character in flashback and not have her return at all?
It's also unclear which actress got the part-- American 11-year-old Joey King is the only young actress cast so far, but it's unlikely she'll have an accent that would match up at all with Cotillard's. Regardless, the young Talia isn't likely to be the major figure in the movie-- who we really need to watch out for is Cotillard, who now more than ever seems to be playing someone who isn't what she seems. We'll probably only find out for sure on July 20 next year, when The Dark Knight Rises finally hits theaters.
Staff Writer at CinemaBlend
Your Daily Blend of Entertainment News
Thank you for signing up to CinemaBlend. You will receive a verification email shortly.
There was a problem. Please refresh the page and try again.