David Carradine Dead At 72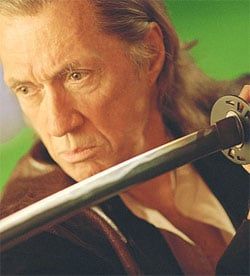 Sad news from Bangkok, Thailand. The great David Carradine is dead, and under the strangest of circumstances. The legendary, 72-year-old Kung Fu actor was found naked and hanged in a closet by a hotel maid. Initial reports are calling it suicide, though you have to wonder why he'd want to be nude and in Bangkok to do it.
Let's not dwell on the bizarre circumstances of his demise, at least not now. There will be time for that later as the police conduct their investigation. Maybe he looked at a life of fading health and increasing old age and simply took matters into his own hands. If so, I can respect that. If it's something else, we'll know soon enough. For now, take a moment to say goodbye to one of the greats.
The son of well known actor John Carradine, David Carradine spent more than 40 years in the film industry, doing everything from westerns to comedies to Disney movies. He worked with Scorsese and Ingmar Bergman. He battled the supernatural and got to hang out with Jennifer Garner on Alias. Even in old age Carradine worked constantly. He last appeared just a few weeks ago in Crank: High Voltage. When people think of him though, it'll always be as the wise and ethereal kung fu master Kwai Chang Caine, which he played both in the 70s series Kung Fu and the 90s spin-off Kung Fu: The Legend Continues.
More recently his career found new life when Quentin Tarantino cast him as the villain in his two-part epic Kill Bill. Carradine's big speech at the end of Vol. 2 is absolutely unforgettable, a final great moment from one of the martial arts genre's true greats.
You'll see more of Carradine in the coming months. Before his death he finished parts in no fewer than six upcoming movies, most of them obscure titles which are suddenly less obscure after his passing. But he'll always be Kwai Chang Caine, in one way or another. It's not such a bad way to be remembered.
Your Daily Blend of Entertainment News
Thank you for signing up to CinemaBlend. You will receive a verification email shortly.
There was a problem. Please refresh the page and try again.