David Cronenberg Reveals Details On The Scrapped The Fly Remake, Eastern Promises 2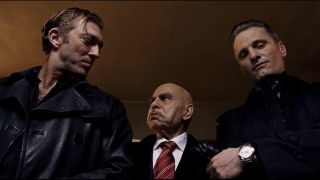 (Image credit: Focus Features)
Even though 20th Century Fox drafted master filmmaker David Cronenberg to write a sort-of sequel to his 1986 masterpiece The Fly, he's been pretty open in recent months that the film is unlikely to happen-- though, as he told me during our interview last month, "for various reasons I'm not going to get into." So while it's a slight mystery why Fox would pass on another take on such a revered cult film, and Cronenberg isn't really explaining what he means when he says the film is "not really a remake" and not a sequel either, he is willing to talk about why he wrote the film to begin with, and what he found interesting about it.
Because, as Cronenberg told me, he hasn't turned his back on horror, but a lot of the horror scripts he's offered retread material he covered early in his career, with films like The Fly, Scanners and Videodrome. So what made The Fly worth revisiting this time around? Well, it started with ignoring some advice from Mel Brooks:
He went on to say "I would be happy to be in prep on the new Fly if it could happen," which is a pretty sneaky way of leaving the door open for something to happen. But given how frank Cronenberg has been about Fox's lack of interest in moving forward with his script, I wouldn't count on actually seeing this new take on The Fly-- in whatever shape it takes-- any time soon. Much more likely to happen, at least as Cronenberg sees it, is Eastern Promises 2, a sequel to his 2007 film that has seen several script drafts from writer Steve Knight. No one is officially committed, and Cronenberg stresses that star Viggo Mortensen has to like the film before anything can happen, but here's what he told me about where the film will take Mortensen's hitman character Nikolai:
While Cronenberg talks up these ideas, he's got plenty of other films coming much sooner. Opening tomorrow is his new drama A Dangerous Method, and next year comes Cosmopolis, which pairs Cronenberg with teen heartthrob of the moment, Robert Pattinson. Later today I'll post my full interview with Cronenberg, in which we dive into details about A Dangerous Method, how he acquired his skills as a director, and how hard Pattinson had to work to keep up with his massive role in Cosmopolis. Check back for that interview soon!
Your Daily Blend of Entertainment News
Staff Writer at CinemaBlend