David Yates Talks Doctor Who And Why He Left The Stand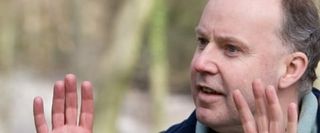 Having helmed the last four Harry Potter movies, director David Yates knows a thing or two about handling beloved properties with insanely devoted fan bases. He's going to need every bit of that experience since he's developing a new Doctor Who feature film to direct. That's an announcement that angered many Who fans, since Yates said the movie would start "from scratch" and split off from the existing TV continuity.
Despite the plans to start fresh, Yates is apparently a fan of the show. He had plenty of praise for the recent incarnations of the show in an interview with the LA Times' Hero Complex blog:
Apparently not so great that he doesn't think he couldn't improve on the concept, mind you, but whatever. Of course, the entire Doctor Who movie news gets more confusing the more you read up on it. Yates says he's developing the film with Jane Tranter, the head of the Los Angeles-based BBC Worldwide. But, as Giant Freakin' Robot reported around the time of the initial announcement, the folks across the pond at the BBC were quick to downplay the news. Who knows if Yates will actually get around to making a Doctor Who movie, but it's nice to know he's at least seen the recent series. Or at least memorized the names of some of those involved...
Of course, Yates nearly wound up tackling an even bigger property: the bigscreen adaptation of Stephen King's epic novel The Stand. He and Potter screenwriter Steve Kloves were all set to collaborate on the Stand movie...and then they backed out, making way for, of all people, Ben Affleck. What changed Yates' mind? According to Hero Complex:
I don't quite know what to say about that, but if Yates wasn't passionate about The Stand, it's better for everybody that he moved on. Of course, I'm sure there are many Who fans who wish he'd have the same epiphany regarding a certain Time Lord...
Your Daily Blend of Entertainment News
Thank you for signing up to CinemaBlend. You will receive a verification email shortly.
There was a problem. Please refresh the page and try again.