Deadpool Eyes 6 Talented Actresses For The Female Lead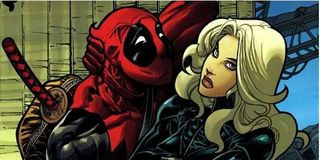 Every time we get to remind you all that Deadpool is coming to town next February feels like a victory in and of itself. The promise of Ryan Reynolds bringing everyone's favorite violator of the Fourth Wall to the big screen is something that's been long awaited, and almost didn't happen. But we're past that point, as it's most definitely happening, and better still – it's happening pretty damned quickly. Which means it's time to find some playmates to enter the sandbox, particularly a female counterpart that can engage in ass kicking and name calling, which just might be fulfilled by one of the following actresses on the short list for the Deadpool movie: Morena Baccarin, Taylor Schilling, Crystal Reed, Rebecca Rittenhouse, Sarah Greene, and Jessica De Rouw.
Deadline broke the short list of candidates that director Tim Miller and his team are vetting, and they're all pretty exciting prospects that make for a very competitive field. Taking a run down the field of actresses, a pattern becomes readily apparent. For starters, Fox is definitely looking to play within a set budget range. Using rising stars with a lot of TV, but little film experience, helps keep that budget in check. Recognition is also a factor, as all of these players are on the public radar and not completely unknown. As to who has the fast track advantage, that's where the fun part lies.
Morena Baccarin
She's got the chops to pull off both, especially after working on Joss Whedon's short-lived masterpiece, Firefly, but she's got stiff competition with the rest of the group.
Taylor Schilling
Also on the list is Orange Is The New Black star, Taylor Schilling; who has some experience in both areas of interest. The advantage she might have over Baccarin is the fact that she's had a little more experience with the more brutal side of ass kicking. With her star rising fast in the addicting Netflix show, she's both a good option and a possible scheduling conflict.
Crystal Reed
Next on the list is Crystal Reed, better known as Allison Argent – a Hunter from the MTV's runaway hit reboot of Teen Wolf. Her hunting skills, as well as pull with younger audiences, make her another good choice. However, the caveats of her relatively unknown nature, as well as perceived age difference between her and Reynolds, are enough to balance the scales.
Rebecca Rittenhouse
The same goes for Rebecca Rittenhouse, a cast member from the recently canceled Red Band Society. A fresh face, and low visibility are two strikes against her; but her unknown quantities and previous affiliation with Fox are undoubtedly strong enough to bring her in for an audition. With the budget struggling not to break the bank, Reed and Rittenhouse are two pretty good prospects for the same role.
Sarah Greene
Sarah Greene, while not hugely known for her work on History Channel's Vikings, is a multifaceted performer, with credits on stage and screen. Not to mention, she's done some singing in her career, most famously for the game Assassin's Creed IV: Black Flag.
Jessica De Gouw
And our list is rounded off with Jessica De Gouw, who's currently playing the role of Huntress on The CW's Arrow. Another TV franchise player, she's had experience with playing against a handsome co-star with an age gap, as she previously played Mina to Jonathan Rhys-Meyers' Dracula on NBC.
In this author's opinion, you can write off Rebecca Rittenhouse and Jessica De Gouw already, as the former isn't recognizable enough and the latter is a DC player. Crystal Reed might hang on the list for a while, but Teen Wolf is a little too niche, and it's not the target niche for Deadpool. Also, while Morena Baccarin and Taylor Schilling are the biggest names on the list, their salaries might just be a little too rich for the blood of the Fox execs. Which leaves Sarah Greene, who is a fresh face, can come in under budget, and has had a bit part in John Michael McDonaugh's The Guard as a prostitute.
The reason The Guard works in the favor of Greene's casting is that while she's in the film in a very limited capacity, her patter with Brendan Gleeson shows off her comedic timing and pushing the boundaries. Both qualities could help if Deadpool gets its R-rating, as well as bring out only the best in Ryan Reynolds' performance. The rest of the lot is too serious and compartmentalized, whereas Greene has a lot of room to move in – and the ability to do so.
With Deadpool ready to become a part of the X-Men franchise, there's a good chance that this film's success could bring Fox's profile in the comic business forward. Which means that Ryan Reynolds, and whomever Fox settles on for the female lead, just might get a huge break in their careers. We'll see soon enough when Deadpool hits theaters on February 12, 2016.
Your Daily Blend of Entertainment News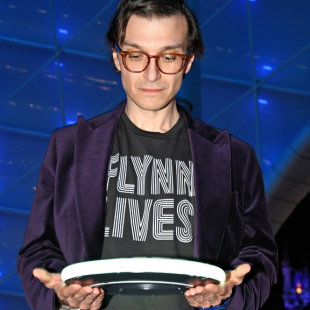 Senior Movies Contributor
CinemaBlend's James Bond (expert). Also versed in Large Scale Aggressors, time travel, and Guillermo del Toro. He fights for The User.