Deadpool Just Broke Another Record, Get The Details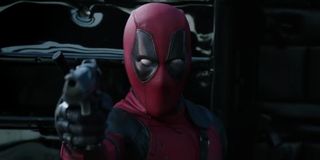 Friggin' déjà vu all over again. It seems as though every few days we here at CinemaBlend have to get online and update our statistics, because Deadpool has become an unkillable, unstoppable behemoth – not unlike its titular character. The movie has already gone on to become the highest grossing R-rated movie premiere of all time, as well as one of the most successful superhero movies of all time. What other records could it possibly break? As it turns out: a major one for the X-Men franchise.
A new report from ComicBook.com indicates that Deadpool has officially become the highest grossing X-Men movie of all time at the North American box office. While technically Wade Wilson himself remains steadfast in his refusal of X-Men team membership, Deadpool still has two X-Men in it in the forms of Colossus and Negasonic Teenage Warhead. By now Deadpool has casually garnered a 10-day total of $235 million at the domestic box office, allowing it to beat X-Men: The Last Stand ($234 million) and Days of Future Past ($233).
Of course, we have to provide some context before you get too excited. Deadpool still has a long way to go before it becomes the highest grossing X-Men movie of all time. Between foreign and domestic box office numbers, that honor belongs to X-Men: Days of Future Past, which brought in a cool $747 million when all was said and done back in 2014.
Although Deadpool has become an absolute smash hit for FOX at the box office – even more so because of its relatively small budget – the odds of it taking down Days of Future Past seem unlikely. The film's R-rating still works to its disadvantage in drawing in those types of numbers, and Deadpool has already experienced a 60% drop in week-to-week earnings since it premiered. We don't say that to disparage the R-rated superhero film, because we obviously loved it and couldn't be happier about its success, it just seems unlikely for it to go all the way.
We're absolutely thrilled about the extreme box office success of Deadpool. Treating the character with the respect he deserves and allowing Ryan Reynolds to properly flex his R-rated muscles works, and now studios have begun to catch on that some R-rated comic book characters deserved their own R-rated movies. It's a brave new world for adult oriented heroes/villains, and we can't wait to see what comes next. Deadpool is currently in theaters, so be sure to check it out.
Originally from Connecticut, Conner grew up in San Diego and graduated from Chapman University in 2014. He now lives in Los Angeles working in and around the entertainment industry and can mostly be found binging horror movies and chugging coffee.
Your Daily Blend of Entertainment News
Thank you for signing up to CinemaBlend. You will receive a verification email shortly.
There was a problem. Please refresh the page and try again.