Deleted Scene From The Hangover Features The Infamous Mr. Chow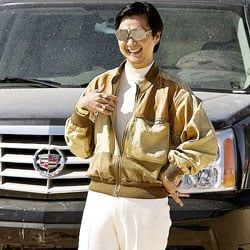 Didn't get enough of Ken Jeong in The Hangover? You're in luck, because Empire has a deleted scene from the film and it shows Mr. Chow in all his glory. In case you've been in a coma the past six months, The Hangover is about four guys who wake up after a crazy night in Vegas and remember nothing. Well, actually only Phil (Bradley Cooper), Stu (Ed Helms) and Alan (Zach Galifianakis) wake up in the hotel room the next morning; Doug (Justin Bartha), is missing. Jeong's Mr. Chow is a crazy mobster the guys think knows where to find Doug.
The clip is fairly amusing. It's basically just Jeong doing some improvising while taking about why he prefers the character Stu to "the fat boy who @#$%ed" him in the ass. There will be loads more from where this one came from when The Hangover hits DVD and Blu-ray on December 7th. The two-disc DVD and BD editions come with an entire featurette devoted to Jeong called "The Madness of Ken Jeong."
Your Daily Blend of Entertainment News
Staff Writer for CinemaBlend.