Denzel Washington Evens The Odds In New The Equalizer Trailer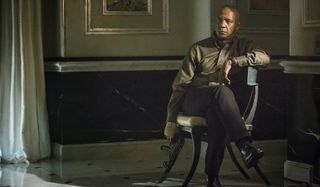 Denzel Washington is a mild-mannered man who just wants to work at the local Home Depot…oh, am I kidding? Denzel's a total tough guy in this brand new trailer for Sony's upcoming film The Equalizer.
Washington is the title character in the new feature, which finds the actor reuniting with Training Day director Antoine Fuqua for a project based on a cult '80s television series that featured Edward Woodward playing a private eye with a knack for solving people's problems.
Coming Soon shared the newest clip and poster for The Equalizer, which is more of a reimagining of the show than an out and out remake. Denzel Washington plays Robert McCall, a quiet guy who really does work at the local big box hardware store. However, Washington's character has a past – and despite his insistence, he really wasn't one of the Pips who sang backup for Gladys Knight…
No, our Denzel Washington was something much more somber and serious – a knight in an age where knights don't exist anymore (let's hope he's not a knight like Sandor Clegane…). Sure, he wants to lead the simple life, sitting in cafes reading Hemingway and sipping on coffee. But a chance meeting with a young girl (Chloe Grace Moretz) soon brings him face to face with the Russian mafia – where his black ops commando skills will come in handy.
The new trailer is a slick production. Antoine Fuqua channels his inner John Woo (again…), and I still like the idea of Denzel Washington as a butt-kicking action star even if I don't entirely buy it. Maybe this film will qualify him for a slot in the next Expendables movie. Fuqua clearly isn't slavishly devoted to the look and feel of the source material, which had a distinctly '80s vibe, and the trailer's inclusion of the Eminem and Sia track "Guts Over Fear" is a far cry from the iconic opening theme of the show. Okay, maybe iconic is a stretch, but it was a good piece of theme music.
Sony is extremely confident that this new take on an old show is going to be huge – so confident that they've already commissioned a sequel, so it seems safe to assume that Denzel Washington will probably get the better of the Russian mob by the time the end credits roll here. Ah Hollywood, so in love with spoiling your own films.
Get ready to take on crime and clean up the streets when The Equalizer hits theaters on September 26.
Your Daily Blend of Entertainment News
Thank you for signing up to CinemaBlend. You will receive a verification email shortly.
There was a problem. Please refresh the page and try again.