Devil's Knot Casts The Role Of West Memphis Three's Damien Echols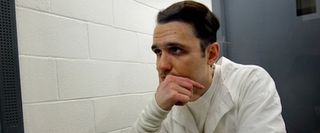 Over the past week or so, we've really begun to see the cast of the upcoming Atom Egoyan-directed Devil's Knot take shape. Based on Mara Leveritt's book, the film will follow the private detective who worked pro bono on the West Memphis Three murder investigation. Colin Firth, Reese Witherspoon and Mireille Enos are among the cast, with Amy Ryan and Dan DeHaan in talks to join the film. Until today, we were left to wonder who would play the role of Damien Echols, the presumed leader of the trio of accused teens who were inevitably convicted of the mutilation and murder of three young boys.
Variety is reporting that Coastal Carolina University drama student James Hamrick has been cast to play the role of Damien Echols in Devil's Knot. (Update/Correction: James is a musical theatre student at Nebraska Wesleyan University in Lincoln, Nebraska, not a drama student at Coastal Carolina.)
Here's the photo of Hamrick Variety included with the story:
While not exactly a ringer for Echols (based on that photo anyway), there does seem to be some resemblance, particularly in the eyes, and the somber expression.
With Witherspoon and Firth already bringing their own bit of glamor and star-power to the film, it seems appropriate that an unfamiliar face play Echols, a teen who was branded an outsider due to his preferences in fashion, music and religion. While the role of Echols is obviously crucial for the film, it's unknown just how much emphasis the movie will place on him. It sounds like the focus of the story may fall largely on Ron Lax (Colin Firth) and the investigation he did, which helped get Echols, Jason Baldwin and Jessie Misskelley Jr. out of prison after more than 18 years of incarceration. Still, this is a key bit of casting, and I can't say that I'm disappointed that they've decided to go with a new face. It'll be interesting to see how Hamrick does with the role.