Did Emily Blunt Turn Down Captain America To Be Catwoman?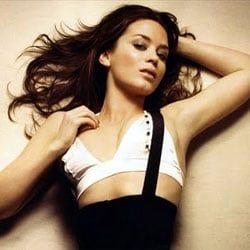 Emily Blunt's name seems to come up in conjunction with nearly every superhero film. First she was supposed to be Black Widow in Iron Man 2. That didn't work out. Then more recently she was up for a part in First Avenger: Captain America, which she turned down. What's next? Batman rumors.
Batman on Film claims that Blunt turned down a part in Captain America because she's hoping to land the role of Selena Kyle, also known as Catwoman, in the upcoming third Batman film. To lend some credence to this rumor, BOF points out that she was once rumored to be up for the role of Rachel Dawes when Nolan's team was looking for a Katie Holmes replacement.
So here's why this should happen: Emily Blunt's perfect. She's an amazingly underrated actress who's proven herself time and again in overlooked roles (The Devil Wears Prada) and critically acclaimed performances no one has seen (The Young Victoria. As a bonus, she's look wicked hot in a leather cat suit. Emily's ripe for a big, breakout role and Batman seems like a perfect fit for her. She's about the right age to step into the part too, it's easy to imagine her as a foil for Christian Bale's Bruce Wayne. As a successor to the great Michelle Pfeiffer, it's hard to imagine Nolan doing much better. Plus, she's British, and Nolan's new Batman universe seems to have a thing for casting Brits.
Now why it probably won't happen: First the rumor doesn't say she's up for the role, only that she wants it. Wanting doesn't mean having, though I'm a huge fan of Blunt, and think she'd be a perfect Catwoman. Second, she was literally the only actress left in Hollywood who hadn't already been rumored for the part. These Catwoman casting rumors are a dime a dozen and they never turn out to be true. Third, we don't even know if Catwoman will be in the next Batman film. For that matter, we don't even know if they have a script, a director, or even if the movie is really happening. Until all of that gets sorted out, it doesn't make much sense to worry about casting.
Your Daily Blend of Entertainment News