Did Jason Reitman And James Cameron Really Write Their Movies Themselves?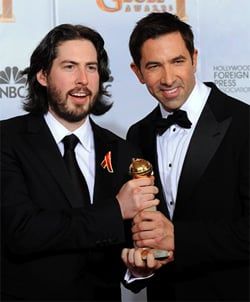 A few days ago, the LA Times posted a seemingly endless diatribe chronicling tiffs over screenwriting credits for some of this years biggest awards contenders. The most prominent films in question are Up in the Air and Nine, but even Avatar, a movie that James Cameron claims to have been working up alone for over a decade, is under scrutiny for possible collaborators who have been unceremoniously omitted from the credits.
Up in the Air writer/director Jason Reitman usually claims to have taken Walter Kirn's novel and toiled over it for months until the final script was ready to shoot. What recently came to light, though, is that Fox already had Sheldon Turner working on the project, and his completed draft is what Reitman then worked from. Reitman wanted to take all the credit for himself, but Turner fought for his name to be attached to the movie and the WGA sided with him since so many elements of his draft still appear in the film. Last weekend Reitman and Turner accepted together both the Critic's Choice Award and Golden Globe for Best Screenplay, but at the Critic's Awards at least, Reitman didn't even let Turner give an acceptance speech. Shame on you, Jason Reitman.
The case is similar with Nine, where the Weinstein Company was hoping to use Anthony Minghella's name to sell the movie as "his final work." Unfortunately for them, Michael Tolkin's first draft was what Minghella worked from, and Tolkin was eventually given top-line credit on the film. It's not shocking to hear that the Weinsteins weren't ready to play nice with Tolkin as their reputation (Harvey's at least) is not one of timid reasoning, but more of tyrannical outbursts.
Most surprising is to hear about Avatar's possible co-writer Laeta Kalogridis. She currently bears an executive producer credit on Avatar and wrote the screenplays for Shutter Island and Cameron's potential upcoming project Battle Angel, but apparently she also contributed to the script in the early stages, which you'd never know from the way Cameron totes Avatar as his 15-year-old opus.
The article is long and at some points is like trying to follow the timeline for Lost, but essentially it just says in as many words that the film industry is dog-eat-dog and not many people are willing to play nice. There's a lot of politics involved, but it seems to me that if everyone just was willing to take the credit they deserved it wouldn't be such a problem. I mean, how many millions of dollars can you really need?
Your Daily Blend of Entertainment News
Thank you for signing up to CinemaBlend. You will receive a verification email shortly.
There was a problem. Please refresh the page and try again.