Dinosaurs To Invade Los Angeles Thanks To Warner Bros.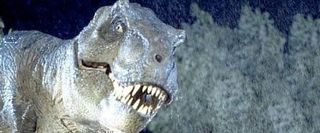 From alien invasion to good cop gone vigilante, some movie concepts are just too rewarding to ever go extinct. Chief among them is dinosaurs unleashed on the modern world. With cutting edge special effects and convincing movie science, Steven Spielberg's Jurassic Park was not only a terrifying summer sensation and box office record-breaker, but also the new standard by which all other monster adventures would be judged. Recently Universal announced plans to re-release Jurassic Park in 3D in 2013, and it seems Warner Bros. is looking to counter with a dinosaur-centered action flick of their own.
Deadline reports that Warner Bros has bit on the pitch for a sci-fi adventure that places a pack of rapidly evolving dinosaurs into the heart of contemporary Los Angeles. Of course The Lost World: Jurassic Park unleashed a T-Rex on San Diego, so if this untitled action feature is going to up the ante these fast-adapting dinos better bring their A-game. Unfortunately, it's hard to say how this film could stack up as no further plot details are being unveiled at present.
We do know the screenplay was penned by Mike Bayman, and John Clisham will helm. Though both are relative unknowns, Clisham has some serious experience working on jaw-dropping 3D epics. A long-time employee of James Cameron's Lightstorm Entertainment, Clisham has contributed to the creation of Avatar and was instrumental in Titanic's 3D makeover. With credits like this, it's easy to assume this dino tale will utilize 3D, but even if it doesn't Warner Bros. seems convinced it will offer some sensational spectacle since the studio purchased the pitch after seeing "early tests," presumably of the special effects. With a script and director already in place, casting should begin in short order, which will offer a keener perspective on this prehistoric-inspired picture.
Your Daily Blend of Entertainment News
Staff writer at CinemaBlend.