Dirty Dancing Parody Leads To Huge Lawsuit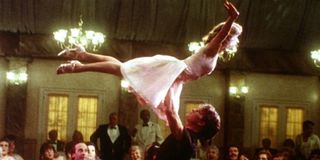 The phrase "nobody puts Baby in a corner" has pretty much become common tongue. But the second you start using it in promotional/marketing material without the consent of Lionsgate, even if it alters a few lines, well, you're in trouble. And the trouble just got huge for brokerage giant TD Ameritrade in response to their television campaign that features a few Dirty Dancing references, including an altered version of the famous line from the film.
Lionsgate is going after TD Ameritrade full force claiming the business "adulterated taglines" and used a cartoon "reenactment" of the famous dance lift performed by Jennifer Grey and Patrick Swayze for their television ad that ran from October to April. The lawsuit follows TD Ameritrade's attempt last Friday to get declaratory relief that its ad was safe from the infringement. But, according to The Hollywood Reporter, Lionsgate is not backing down, asserting false association, unfair competition, trademark infringement and dilution. TD Ameritrade is staying put, claiming the advertisement was kosher. But it really is a pretty blatant reference, see for yourself.
Since the film was released in 1987 the studio says it has owned common law trademark rights for the specific line, "Nobody puts Baby in a corner." This would fall under merchandise licensing, which Lionsgate also claims it licenses certain scenes from the film as well, including the dance lift. The studio has said that they have future plans for additional use of this valuable property and is concerned that TD Ameritrade attempts to fool customers into believing that their advertisement was licensed by Lionsgate or is some sort of sponsored work, which it is not.
But apparently the battle isn't just over the 16-second advertisement on television. Lionsgate is also very upset with the company's promotional comments made on social media, much of which include the line, "Take that baby and roll it over to an IRA." The lawsuit is only in the beginning stages, so this is sure to take a bigger spotlight as the two massive companies go head to head. Lionsgate is seeking all kinds of damages, so we'll just have to see whether or not a dance lifted pig holds up in court, otherwise, this may be a big win for the studio, proving, nobody puts Lionsgate in the corner.
Your Daily Blend of Entertainment News