Disney Adapting This American Life Story Into Rom-Com The Girlfriend Equation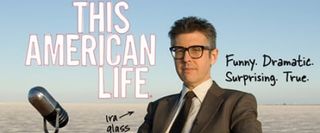 On paper I love the idea of the public radio show This American Life adapting itself into feature films. The weekly show often digs up some of the best stories you'll hear anywhere, fiction or non-fiction, and has insights into the way people live and relate to each other than you almost never find in major studio films. But the only film to actually result from a This American Life episode thus far is the kid's movie Unaccompanied Minors, which provided a paycheck for Paul Feig in between creating Freaks and Geeks and directing Bridesmaids but is otherwise pretty unmemorable.
But they're still trying, with several projects in development and now another one going into the works at Disney; at some point one of them will work out, and I'll be glad to see it happen. The latest one, reports THR, will be The Girlfriend Equation, based on an episode that focused on an MIT student who tried to "identify and woo the love of his life through complex math equations." I'm a pretty religious This American Life listener and I can't remember this episode for the life of me, so I'm really just going off the details they're providing in this story and trusting the episode actually happened. The show's producer Ira Glass will be executive producing the film, with Vince DiMeglio and Tim Rasmussen adapting the true story and Andrew Panay producing.
Your Daily Blend of Entertainment News
Staff Writer at CinemaBlend